Ingredients
1 CUP of quinoa
2 CUPS of water
1 CUP of cherry or grape tomatoes, chopped
¼ CUP of fresh basil leaves, minced
¼ CUP baby spinach, chopped
¼ CUP of olives, chopped (green, black, and/or kalamata)
¼ CUP of balsamic vinaigrette
2 TBSP of extra virgin olive oil
¼ TSP SLR's Spice of Life or your favorite herb and spice blend
Download Recipe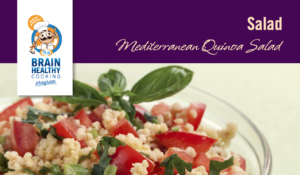 Download
Directions
In a medium pot, add quinoa and water until a boil.
Reduce water to a simmer and cook the quinoa until all the water is absorb (stir quinoa every 5 minutes so it doesn't stick to the bottom of the pot).
Add the tomatoes, basil, olives, balsamic vinaigrette, and olive oil to the cooked quinoa and mix all the ingredients together.
Serve hot or cold.