Recent studies show that having an active, enriching social life has a positive impact on your cognitive health. As someone who works in assisted living, this is something I have known for years. Without all the scientific research, it's easy for someone like me to see that having fun with your friends, learning new things and participating in your favorite activities actually keeps seniors happier, healthier and sharper than they'd be living alone.
But what is the impact of an active and social lifestyle on someone experiencing symptoms of cognitive decline?
Around 18 months ago, the senior community I work for implemented a specialized therapeutic program for residents who were experiencing the early symptoms for memory loss or what is often diagnosed as Mild Cognitive Impairment. In that time, I have seen a marked improvement in the attitudes and behavior of residents participating in this program option. It is designed specifically for residents who are experiencing mild to moderate memory loss but might not be ready for advanced or secure memory care.
Participants are part of an intimate peer group designed to foster success, friendship, and whole-body fitness. Because the group is close-knit and small, we are able to offer tailored programs with just the right amount of challenge for our residents. As the director of this specialized programming, my goal is to keep the activities and the attitude surrounding them fun, engaging and failure-free.
The Science Behind the Fun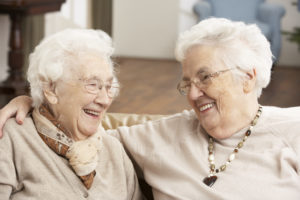 Remember the section of the Reader's Digest called "Laughter is the Best Medicine"? Well, I believe this is true! When you laugh or see someone laughing, your brain releases serotonin, a neurotransmitter that acts as a natural mood stabilizer. It's also the chemical that helps with sleeping, eating, and digesting and has been proven to help reduce depression and regulate anxiety. As a result of simply laughing, you start to feel better about yourself and your surroundings. Laughter is central to each activity I conduct with this group.
When you experience a personal success, like landing a beanbag in the hole during corn toss, or cheering for someone else, the "reward" chemical dopamine is released. You feel good about that person and yourself. When you hug someone, or are touched in a positive way, that's right, more positive hormones! This time, it is oxytocin, or the "love" hormone.
The Impact of Fun on Quality of Life
Socialization means so much to new residents. Everyday, I experience a new success story.
We had a resident that was a part of this programming pilot group who used to pack up her room every morning and pile it on top of her walker, ready to leave. She's a few months into the program now, and every morning she winks at me while having her breakfast and asks, "What are we doing today?"
Another resident used to stay in bed well into the afternoon, with the blinds drawn and heat off. Now, she proudly displays her artwork and is eager to help anyone put together a puzzle.
Another woman was having a really tough time coping with a number of losses in her life including the loss of her husband. In grief she'd used to stay in her room, calling her daughter several times a day and felt unable to engage with other residents. Now, she's out and about regularly. Recently, I was thrilled to see her singing "Happy Birthday" to her friend turning 100 years old and later reading to a visiting 6-year-old with learning disabilities.
Seniors at this stage of life have often experienced profound losses–the loss of a spouse, friends, life-long home, or even their memory. But when they are in a community like ours, among friends everyday, I see just how much they've also gained. New friendships, boosted confidence, and most importantly, hope.