Ten months ago, no one could have imagined that our lives would be turned upside down, all in the space of a few short weeks. The Covid-19 pandemic has caused a seismic shift in the way we go about our daily lives and even how we approach the most basic of tasks. Often, we have felt that we are like surfers trying to ride out a constantly changing wave.
Hope is on the horizon. I look around me and reflect on how people have learned to get on with the business of life during these very challenging times. They seem to be embracing a "Live, Learn, Adapt" mindset. If you think about it, this is not new, this has been happening throughout history. When people lived through crises such as plagues, wars and the great depression, they needed to learn ways to adapt so they could move forward. In fact, we do this as we move through our own lives. We live, we learn from new situations that arise, and then we adapt to the new circumstances.
In order to understand how people are adapting to the new reality that we find ourselves in, it is important to take a look at one group that has been particularly hit hard by the pandemic: older adults, and specifically those living in senior living communities.
During the lockdown last Spring 2020, Assisted Living residents in Massachusetts and beyond were relegated to their apartments, isolated from families and fellow residents. Today communities are still not back to their full "normal" with physical distancing impacting social activities, programs and dining. Yet, communities have found creative ways to counteract isolation, offering social opportunities for residents to engage with each other and maintain communication with families.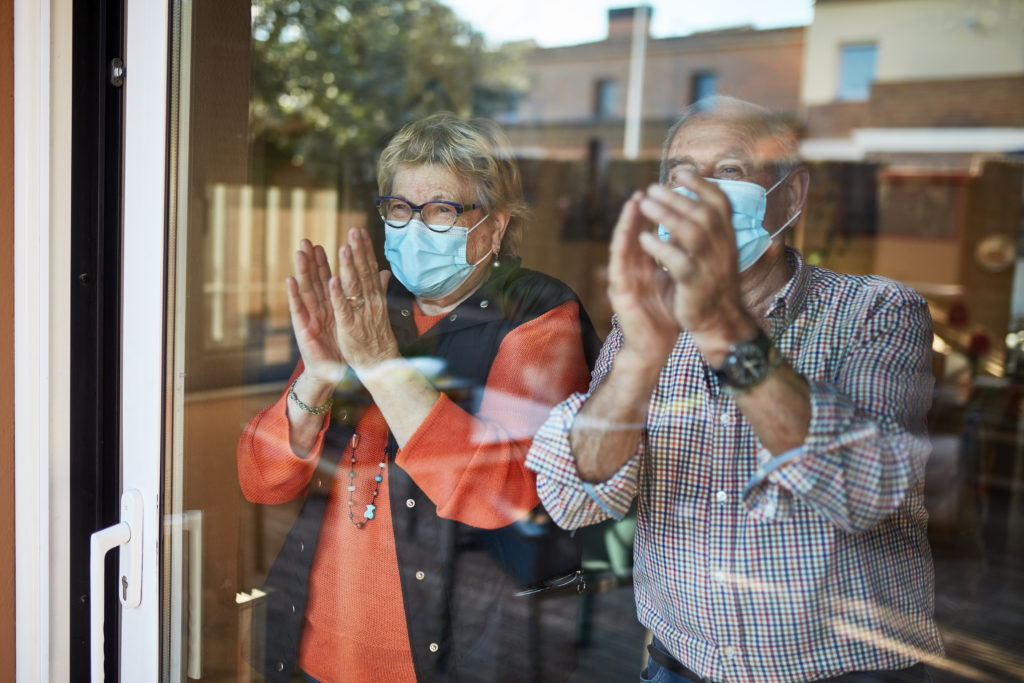 Executive Director Julie Williamson of Standish Village, which is located in Boston's Lower Mills neighborhood, shared some of her community's creative ideas:

A text message chain was put in place, allowing families to "opt in" for regular updates about their loved ones and important news about the community's response to the pandemic.
The nursing team conducted weekly mental health and wellness screenings and results were communicated to families. They also coordinated Telehealth visits for residents with their physicians.
During the worst of the lockdown last Spring 2020, Standish Village counteracted resident isolation and loneliness with video chats with family via Skype, Zoom and Facetime and window visits for residents in their Compass Memory Support Neighborhood. Another long-term care community held family visits through a plexiglass partition with extension gloves for 'hugging". With the easing of strict quarantine measures, Standish Village and other senior communities transitioned to scheduled indoor and outdoor in-person family visits with appropriate social distancing to keep everyone safe.
During the quarantine, Standish Village residents stepped just outside their apartments to engage in "hallway" movement and exercise classes, and themed programming such as Trivia, birthday celebrations, a travelling library and a mobile ice cream cart. When state mandated quarantine orders were lifted, Standish Village and other senior communities quickly pivoted to safely plan smaller sized group activities and programs with creative scheduling and room usage.

Over time, seniors and people of all ages have embraced a Live, Learn, Adapt mindset, finding ways to stay connected to others, keeping themselves busy during extended periods at home, and discovering new ways to shop and access healthcare.

We went virtual with online book clubs, cultural activities and religious services.
Neighbors kept in touch by organizing pet parades, rolling graduation parties and outdoor backyard socializing.
Food delivery options, such as Instacart and Amazon Prime became wildly popular, and restaurants shifted to a take-out model as a means to survive.
Staying fit became even more challenging as health clubs moved from an in-person model to holding classes virtually.
How we manage our healthcare changed dramatically. Telehealth visits became the preferred option, and prescriptions and other health related purchases now can be picked up curbside or delivered directly to the patient's home.
Interestingly, Attorneys adapted in order to meet their clients' needs. They notarize documents via video conference, and file probate documents electronically. Creative attorneys in Florida even converted a van to an office, traveling to different locations to reach people with restricted access to legal services during the pandemic.
It is both exciting and encouraging to see that when people transition to a Live, Learn, Adapt mindset, despite the challenges they face, they can move forward in their lives.