Being just 26 years old and in a management role at an assisted living community I am often asked: "How is someone so young qualified enough to be working with older adults?" I have never been bothered by these kinds of questions. How I got here is an interesting story that explains a lot about who I am and why I do what I do.
I love working with older people. I enjoy doing everything I can to improve their quality of life.
The Nana Room
It all started in 1999 when I was 9 years old. My Nana Claire moved in with us after the passing of my grandfather. She had experienced a crippling stroke the year before, leaving her paralyzed on the right side of her body and unable to live independently. When she moved in with us I am sure it gave both Mom and Nana Claire peace of mind knowing that we would all be there to help.
For the next 6 years, until she passed away, I assisted my mother in caring for Nana Claire. I watched her for safety while my mother went out to run errands. I cooked meals for her, but most important of all I simply just spent time with her.
Two years after my Nana Claire had passed away my Nana Betty was diagnosed with cancer that was too far along to cure. She was declining quickly. We decided it best that she move into our house where we would give her a quality of life for the time that she had left.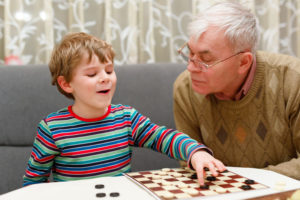 Both of my grandmothers lived in the same room in my house at separate times, and to this day we still refer to this room as the "Nana Room." My parents, aunts, and uncles always treated my Nanas with the utmost love, support, and respect. This did not go unnoticed by me. This is when I first began to realize that I truly had a passion for being around older adults.
My Alzheimer's Disease Education
During my Nana Betty's stay, my great Uncle Louie, brother to my Nana Betty, was diagnosed with Alzheimer's disease. At the time all I knew about Alzheimer's was that it involved memory loss. I thought nothing of it, not knowing there was much more to it. I was at the end of my freshman year of college when my father told me that Uncle Louie's Alzheimer's had progressed. His safety had become a concern. My family was now looking for a community that specialized in memory care. I didn't know that the disease could get as bad as his was. I was curious to learn more about what a memory care community did.
For most of that summer, I researched Alzheimer's disease and its effects on the brain and body. By the time I entered my sophomore year of college I changed my major from Business to Psychology.
That fall my family informed me that they had found somewhere to move Uncle Louie. They had found a secure community that would provide him with the safety and assistance that he needed to stay as independent as possible. We moved Uncle Louie to Compass on the Bay in South Boston, a Senior Living Residences community. Senior Living Residences is an innovative assisted living company that created the Compass Memory Support concept which is affiliated with Boston University Alzheimer's Disease Center. They specialize in therapeutic and research based programs for those with memory loss and related dementia. Uncle Lou lived at Compass on the Bay for a couple of years before needing further nursing care. My family was so impressed at the community's focus on providing quality of life for residents in these later stages memory loss, Alzheimer's and related dementia.
Finding My Passion
After graduating from my undergrad, and 9 months into working towards my graduate degree, my career path became crystal clear. I shifted my focus toward helping those with Alzheimer's. Naturally, the first place I looked for a job was Senior Living Residences. I began working at their Dorchester community, Standish Village, in May of 2014.
In my role as Compass Memory Support Program Director I have become even more knowledgeable on Alzheimer's disease and related dementias. This knowledge has helped me to grow not only as a professional, but as a person as well. In May 2016, my world moved full circle when I transferred from Standish Village to Compass on the Bay. I now oversee their Compass Memory Support Neighborhood (that cared for Uncle Louie) and their new specialized program for those with early stages of Alzheimer's disease.
Working for Senior Living Residences has only ignited my passion further. It is genuinely a company that puts the residents before everything else. I work side by side with a team of professionals that feel the same way I do. I get to work with experts from BU's Alzheimer's Disease to further my understanding and knowledge of dementia-causing diseases.
The Influence of My Caregiving Family
Looking back, I know I have my family to thank for influencing and encouraging my journey. They have shown me how our elders should be respected, which motivates me everyday. It is fulfilling and inspiring work. I get to see the residents' joy when engaging in a program. I know that this joy and engagement helps them to age gracefully and feel happiness each day. Being able to spend my days with these older adults is rewarding and fulfilling. This is truly why I do what I do.