As a professional in the hospice and palliative care field, I answer a lot of questions about hospice care and debunk a lot of myths. But families need to understand what hospice care is, how it works, can you have hospice care in assisted living or other community or facility setting, and hospice care gets paid for. Without this basic understanding, families don't fully understand the vast benefits that hospice care can offer.
What is Hospice care and how does it benefit my loved one or our family?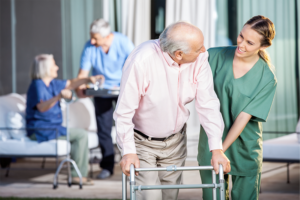 Hospice is a unique concept of care designed to provide comfort and support to patients and their families who are facing a life-limiting illness. This service focuses on comfort, pain management, and emotional well-being instead of curative care. Patients who have a life expectancy of 6 months or less are generally eligible for hospice under Medicare.
Hospice is not a place to stay but rather a service that comes to the patient, whether that is a home, a family member's home, an assisted living community, hospital or skilled nursing facility. Care is made up of an interdisciplinary team which will usually including a doctor, nurses, hospice aides, social workers and music therapists. Patients' pain and symptoms are managed by this interdisciplinary team, as well as their spiritual and emotional needs.
Hospice care also supports the needs of the family – in fact it is one of the only kinds of healthcare that automatically provides care to the family as an extension of our work with our patients, at no cost to the patient or family. Families of patients can gain access to their assigned team for services such as spiritual guidance, social work needs, music therapy, and grief and bereavement support services for 13 months after their loved one passes.
Can you bring hospice care in an assisted living community?
Hospice care will come to you. So when a resident in an assisted living residence signs on to hospice care, care is provided to them in their own room within the community. A great hospice team will lead, guide and support the resident and family, all while communicating and assisting the care team at the community on a daily basis. If you still have questions, keep in mind that one of the important fundamental values of Assisted Living is the opportunity to have choices in decision making. Reach out to the Executive Director or Resident Care Director at your community to discuss the Hospice organizations your community has partnered with in the past. They will be able to help get you the information you need to decide which hospice may be a good fit for you and your family.
Who pays for Hospice care?
Hospice is paid for by Medicare, Medicaid and many other insurance providers. For Medicare and Medicaid recipients, there is no co-pay for the resident.
When is the right time to call Hospice?
Often times, a primary care physician or specialist will refer patients to hospice, but generally eligible patients have a diagnosed life expectancy of less than six months.
Which Hospice should I call?
Enrolling in hospice is an intensely personal decision, and many factors and preferences should be considered before choosing a hospice program. Be sure to ask about response time and access to nursing staff. Families should also ask about specialty programs that are unique to the organization, and whether those programs are covered by Medicaid or Medicare or at an additional cost when reviewing hospice services.
If you have additional questions about hospice care, the Seasons Hospice website has some additional resources including more on what hospice is and is not, and common myths debunked. If you have questions about local hospice options to you, reach out to your town or city's council on aging or elder services provider.
---