In an ideal scenario, we'd all reach a ripe old age, living healthy long lives free from major illness. In reality, living into one's 80s, 90's, and beyond often requires coordinated care, including assisted living, medical intervention, and sometimes nursing home care. Since few of us can navigate late senior years alone, it is crucial to incorporate long-term care into life plans and goals. Doing so requires planning while also preparing and securing oneself financially.
Part I: Planning for Long-Term Care
While no one can rule out the need for long term-care, there are some ways to determine its likelihood. A good clue is a family history of disease and longevity. Consider how long your parents lived and what conditions they may have had. Many health concerns are hereditary, such as cancer, heart disease, and other ailments. If you come from a long line of family that lived into their 90s with few health concerns, maybe your need for long-term care will be less, affording you the opportunity to age in place at home or in a retirement community for many years. Or, if you know disease is prevalent in your family, you may want to consider steps you can take today to plan for the expense of long-term care or reduce your need through lifestyle choices.
Adjusting Your Lifestyle to Reduce Likelihood
If a scan of your family health history reveals lifestyle diseases, such as diabetes, cancer from smoking or obesity, you may be in greater control of your long-term care destiny. No matter your age, it's always the right time to change your lifestyle to improve your longevity and health. If you are obese or overweight, speak to your physician about changing your diet or activity levels. If you smoke, take steps to quit. If you have type 2 diabetes or are pre-diabetic, speak to your doctor about how to reverse the arrow of sickness in your life.
While none of these steps can guarantee that you won't need long-term care, they can reduce the need and will certainly result in a healthier you. When assessing your potential need for long-term care, remember to focus on more than just physical health. Mental and emotional well-being play a role in wellness that can affect longevity.
Knowing Care Desires Early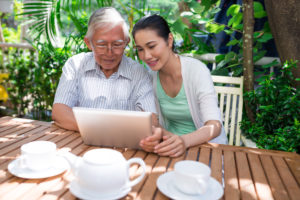 Planning can go beyond trying to pinpoint or minimize need. Prudent planning always involves preparing for the worst, so consider speaking with your family and loved ones about your desires. If you are averse to living in a nursing home, you may be able to get a similar level of care from aid and assistance at home or in a supportive assisted living company. If you do not want to prolong cost or pain in your life, you may want to opt out of some treatments, such as chemotherapy in the case of cancer. When it comes to financing your long-term care, however, there are several options.
Part II: Paying for Long-Term Care
The cost of long-term care can be exorbitant. Currently, a private nursing home room costs an average of $100,000 a year. This steep figure is unaffordable for many, but the other options are costly as well. If you do not require placement in a nursing home, home health care aids still cost about $20 an hour. Depending on your need, employing an aid for just 40 hours a week is going to cost over $40,000, and only cover a quarter of the hours of the week. The cost of an assisted living community is less than a nursing home at an average of $4,000 to $7,000 a month, but it is still a steep figure for many.
Planning to pay these expenses requires a thorough assessment of your expected lifespan and health and financial resources. If you believe you will need nursing home care and want a private room, start saving. Although Medicaid may cover skilled nursing home care, this program is based on financial need, so you can be stuck if you have some money but not enough to finance prolonged private care.
LTC Insurance and Other Types of Funding
One source of financing long-term care is the sale of one's life insurance policies. Life settlement is the process in which an investor pays you cash to step in as beneficiary. These are complex transactions but they can provide much needed cash for long term care.
Another option for financing long-term care is through specific insurance, called long-term care or LTC insurance. These policies are not for everyone. For example, if you are healthy and never need the policy, the premiums would be spent for naught, unlike some life insurance policies that accumulate a cash value or investing the amount you might pay on premiums. The premiums on many of these policies increase and benefits decrease the older you get. But, insurance always requires accepting risk of the unknown. We all carry insurance policies that we may never tap into and accept that fact as a cost of living. LTC policies do not completely replace the need for cash, however, as many policies do not kick in for 90 days of admittance to a facility. If you think LTC insurance may be an option for you, speak to a financial planner about options.
Discussing end-of-life affairs is never easy. However, to make sure you and your loved ones enjoy quality of life and peace of mind during their later years, it's best to start planning ahead and figuring out how to manage the cost of possible long-term care.