As the population most at risk for complications from the novel coronavirus (Covid-19), many seniors have spent several months self-isolating to reduce their risk of exposure, causing many caregivers to express their concern that the lack of social engagement among seniors is creating a new crisis – widespread cognitive decline.
What is Mild Cognitive Impairment or MCI?
The Mayo Clinic describes Mild Cognitive Impairment (MCI) as "the stage between the expected cognitive decline of normal aging and the more serious decline of dementia." Seniors with MCI may struggle with remembering words or daily tasks, and you may notice an overall slip in cognitive awareness among your loved one. Mild Cognitive Impairment is not a form of dementia, and while some individuals who develop MCI are at higher risk of dementia, many seniors' cognitive abilities remain stable for years, or improve after intervention.
Can isolation accelerate cognitive decline?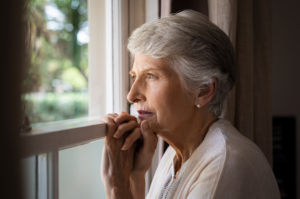 Researchers estimate that between one third and one half of all seniors experience loneliness and social isolation during their late adulthood. This number can be greatly affected by many external factors, including a public health emergency such as the current coronavirus pandemic that is particularly dangerous to seniors. As more seniors spend time away from their families, peers, and social hubs, it raises concerns about isolation and subsequent cognitive decline.
While researchers cannot definitively prove causation between isolation and cognitive impairment in older adults, studies have shown that loneliness may have a direct impact on seniors' brains and overall health. Additionally, there is plenty of research that shows individuals who have more regular social opportunities are less likely to develop several age-related conditions like Alzheimer's disease, osteoporosis, arthritis, heart disease, depression and several cancers.
Is there a way to prevent or reverse mild cognitive impairment?
While there is no cure for dementia, the good news is that there are several ways you can help protect yourself or your loved ones from cognitive decline in late adulthood. One important step is making sure that you are staying hydrated and eating healthy, nutritious foods. Research has shown that eating brain healthy foods, such as spices, whole grains, seafood, and fresh fruits and vegetables can lead to better brain function and slow the effects of memory loss.
Another way to help boost brain health is to stay physically active, as well as socially active. Getting frequent exercise and engaging in social activities with others, such as going for a walk with friends or catching up on the phone, can help reduce stress in addition to potentially reducing the risk of dementia. Getting enough sleep and limiting alcohol intake and smoking are also contributing factors in helping to prevent memory loss. For seniors who may not be able to cook nutritious meals or seek out social activities on their own anymore, a Retirement or Assisted Living Community can offer a more supportive living environment that helps seniors stay sharp and independent in a secure, home-like setting.
What can I do if my Mom or Dad is isolated due to Covid-19?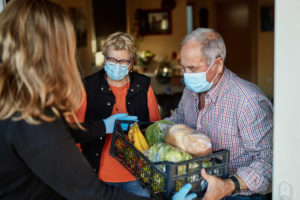 If your loved one is feeling isolated due to the current coronavirus pandemic, there are many ways that you can help.
Setting up virtual visits using a smartphone or laptop can help ease loneliness, and there are now more ways than ever to make these visits fun! Consider playing a round of online trivia, having group Zoom calls with the grandkids, or hosting a virtual social hour with friends.
If you are planning an in-person visit with someone experiencing memory loss, consider following some of these tips to help keep the conversation going.
You may also consider dropping off meals or groceries for your loved one, or signing up for a grocery delivery service. Ensuring that your mom or dad has access to healthy meals will help prevent poor nutrition and decrease their risk of cognitive decline during self-isolation.
The Bottom Line
With the novel coronavirus impacting all of our daily lives, it is important that we take time to check in on our senior loved ones to prevent isolation and cognitive decline. Loneliness is one of the most difficult parts of aging for many seniors, but it doesn't have to be. Taking time to visit, checking in to make sure your loved one is staying healthy, and dropping off nutritious foods can all go a long way toward reducing feelings of isolation, and potential memory loss, in a senior family member. If your mom or dad would benefit from a more supportive living arrangement, a move to Assisted Living may be able to help offer them the nutritious diet, social engagement, physical activity and supportive services that can help them thrive in late adulthood.
Read more: Covid and Assisted Living: Is Now the Time to Make a Move?