Hello! My name is Lesley Vernon, and I am an Art Therapy Intern at Compass on the Bay, an Assisted Living community in Boston MA. I am in my second year of a graduate degree in Clinical Mental Health Counseling with a focus in Art Therapy at Lesley University. This academic year I have the great privilege of serving two days a week at Compass on the Bay under the supervision of Compass Programming Director Kristi Faby who is also a masters-level board-certified Music Therapist. Each week I facilitate art therapy groups, and also work with individuals 1:1. I'm learning a great deal about individuals with memory loss, and discovering how wonderful, wise, and resilient our residents are!
You may be wondering about what art therapy is and how it works, so in this blog post I'll shed some light on the topic.
What exactly is art therapy, who uses it and what are the benefits?
Art therapy is defined by the American Art Therapy Association (AATA) as "an integrative mental health and human services profession that enriches the lives of individuals, families, and communities through active art-making, creative process, applied psychological theory, and human experience within a psychotherapeutic relationship." Treatment goals might include improving cognitive and sensorimotor functions, exploring emotions, fostering self-esteem and self-awareness, resolving conflicts or distress and advancing positive change in one's life. Contrary to popular belief, art therapy is not only for children, but is useful and effective for all people – from age 3 up to age 103 and beyond! Unlike traditional therapy, which primarily relies on verbal communication, art therapy also engages the mind, body and spirit by utilizing visual and symbolic expression.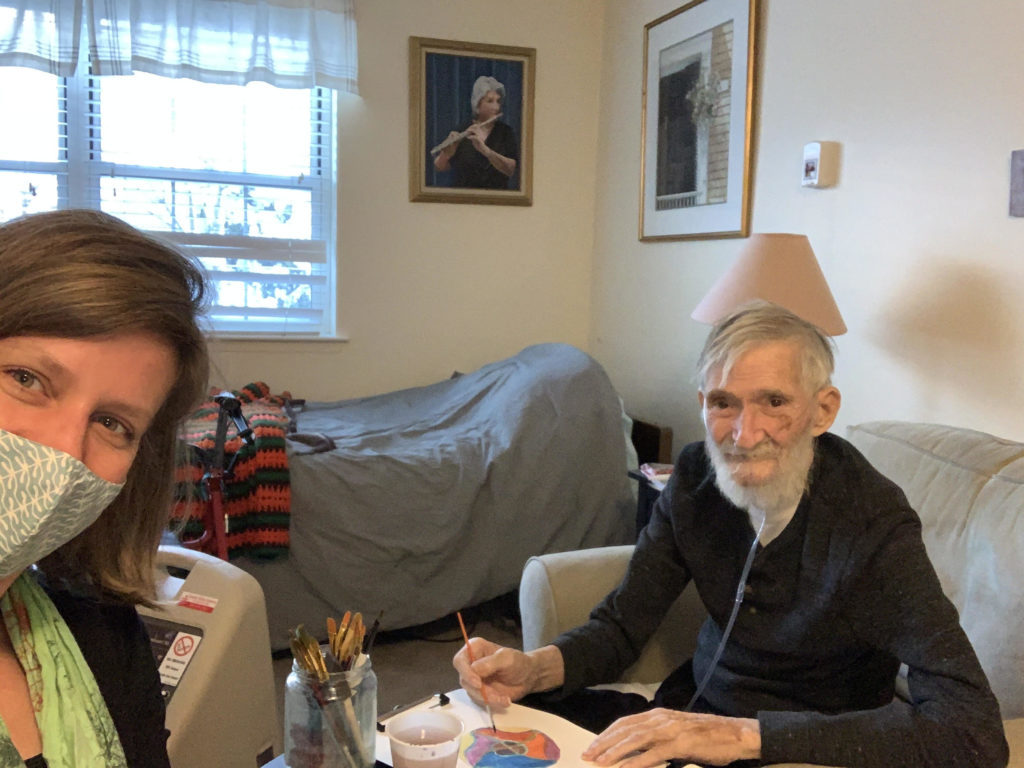 What types of materials do we use in art therapy? Do clients need to be good at art?
Along with receiving training in psychotherapy, art therapists are highly trained in studio art and will guide their clients in the use of a wide variety of art materials, based on the client's unique interests and needs. Some examples of media used in art therapy include working with clay, painting with watercolor, drawing with pastels, making a mask, creating a visual journal or assembling a collage. Different from an art class, the focus in art therapy is on the process rather than the product. Clients do not need any prior experience or special talents in art to be successful – just a willingness to experiment and explore! There are no rules for how to create art in therapy, and anyone can enjoy the benefits of the creative process.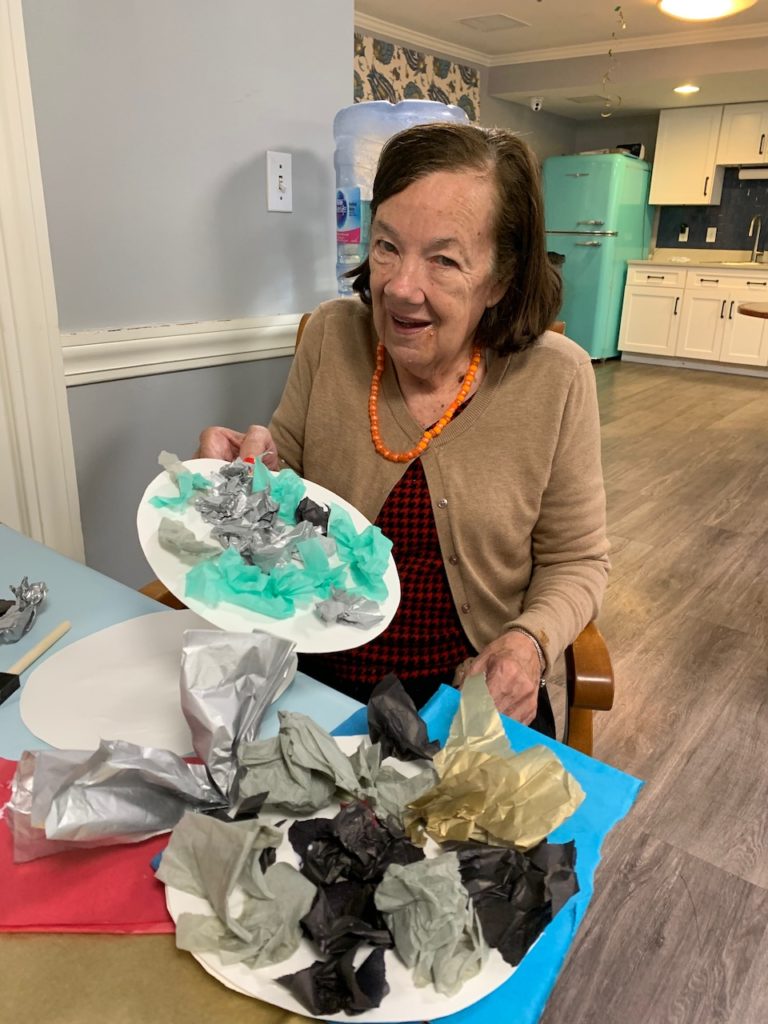 What does art therapy look like at Compass on the Bay?
We've had a wide variety of art therapy groups with our fabulous residents! Here is a sampling:
We spent time on the patio drawing mandalas with oil pastels. A mandala is an abstract design created inside a circle, an ancient art practice that has calming and comforting benefits.
On another occasion, we listened to various pieces of music (everything from Vivaldi to contemporary jazz) and responded to the mood and feel of the music on paper using markers. The residents absolutely love music, and we've been able to combine music and art therapy on several occasions, including live guitar and singing from the talented Kristi!
We talked about gratitude and the amazing wellness benefits of focusing on what we are thankful for. In one group, we spent time creating "holding onto hands" by tracing a hand and thinking of five things that we feel thankful for. We shared quotes about gratitude and discussed ways we can incorporate a gratitude practice in our lives.
More recently, we've been exploring various types of collage – one with magazine cutouts of images the residents felt a connection to, and the other collaging tissue paper into a mandala with colors that represent our feelings that day. It's been remarkable to hear the residents sharing feelings and offering each other support.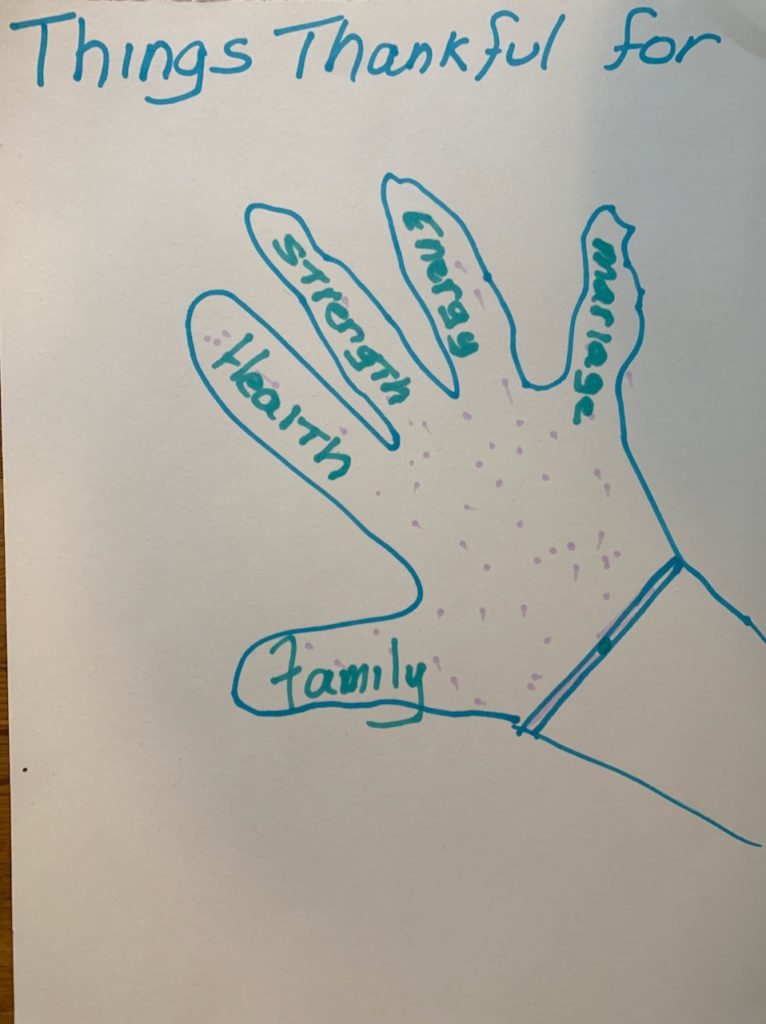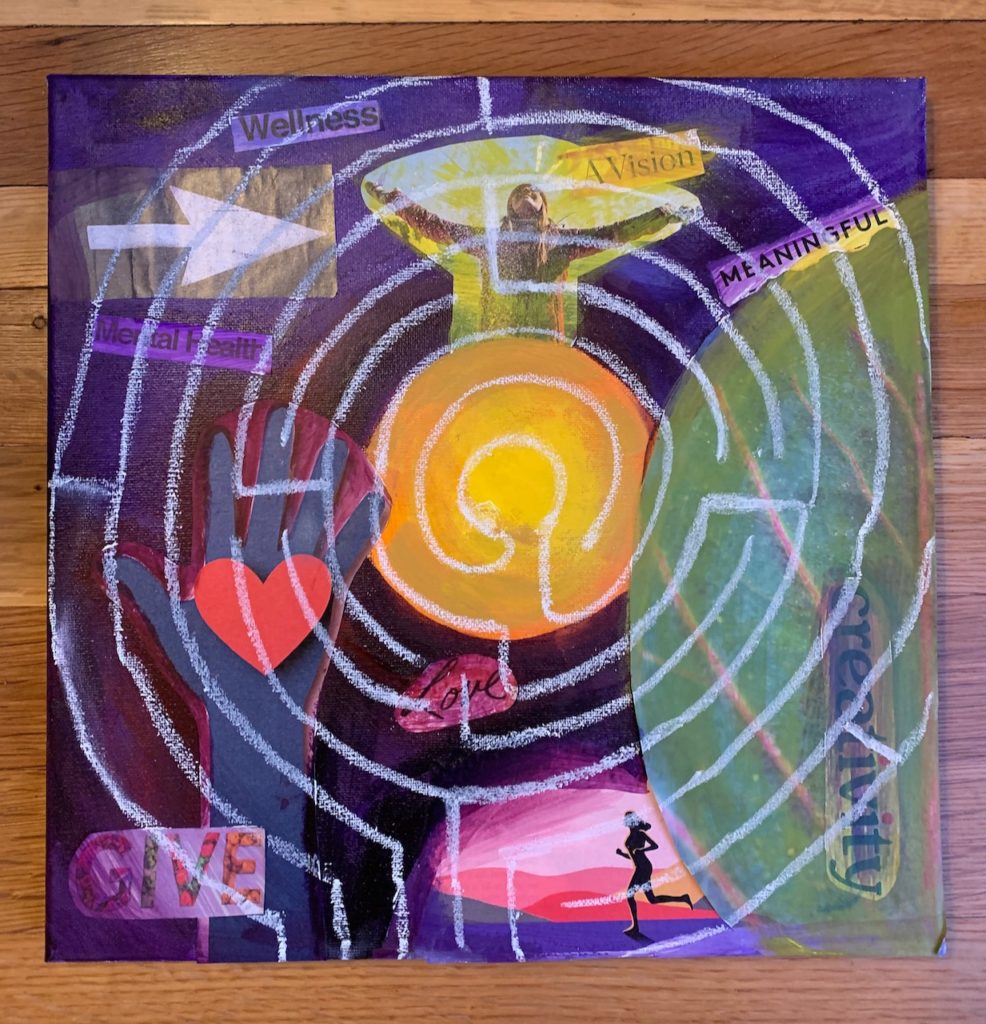 It's truly a pleasure to spend time with the residents of Compass on the Bay! They are an inspiration and teach me what it means to possess strength, wisdom, and resilience. I'm incredibly grateful to be spending this year sharing art, creativity, and therapeutic expression with the fantastic individuals at Compass on the Bay.
Interested in learning more about Art Therapy?
The Art Of Age: Identity, Expression & Ability