According to the National Center for Assisted Living, there are over 800,000 seniors residing in assisted living communities across the US. (That's 15% of all 85+ year olds, and growing each year).
Most people considering a move to assisted living want to know: Are all these people who reside in assisted living communities like me? Will I fit in?
Here is an overview of the representative assisted living resident. Do you see yourself or a loved one in this description? If so, assisted living could be a great option for you!
Assisted Living Resident Profile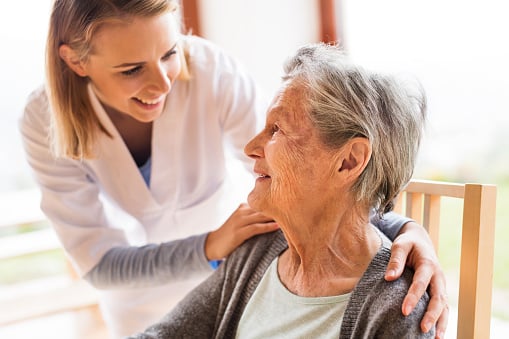 The typical assisted living resident is between 80 and 95 years old, but there are also younger seniors and older ones living in these communities.
The majority are female with a 70/30 split female/male. Some communities have a much larger male population. Be sure to ask.
Most residents need assistance with everyday activities, such as: 72% with bathing and 50% with dressing. (These are called "ADLs – Activities of Daily Living".)
Most seniors use assisted living services to help with other daily activities, such as: 80+% with managing their medications. The average 85-year-old is taking 5+ medications per day. (These are called "IADLs – Instrumental Activities of Daily Living".)
The majority (75%+) have at least several of the top 10 chronic conditions impacting the elderly: 52% have high blood pressure; 42% have arthritis; and 34% have heart disease. Other top 10 conditions include: osteoporosis, diabetes, COPD, cancer, stroke and depression.
40% of assisted living residents have dementia – those with early stage Mild Cognitive Impairment benefit from daily programming and services that cater to them. Those with Alzheimer's disease and more advanced dementia most often reside in a separate neighborhood with specialized services.
It's just about an even split between those who can walk unassisted, and those who use walkers and wheelchairs.
Many seniors have special diet requirements, such as for diabetes and heart disease, and these are accommodated in assisted living.
Many residents receive therapeutic services, such as PT, OT and speech therapy – often after a hospital stay. These are typically not provided by assisted living personnel. Outside specialists are hired independently, and they meet with residents in their apartments.
Some residents require agency skilled nursing, including wound and diabetic care and hospice/palliative services. Agency nurses make visits to the community to take care of their patients, just as they do for someone living independently at home.
This fact sheet from the National Center for Assisted Living has even more information about the growing assisted living industry and the people who live in these communities.
Here are some other resources to determine if assisted living is the right choice for you or for someone you love: