Ingredients
1 can (15 oz) Garbanzo Beans
2/3 CUP dark chocolate
1 TBSP Sugar
Download Recipe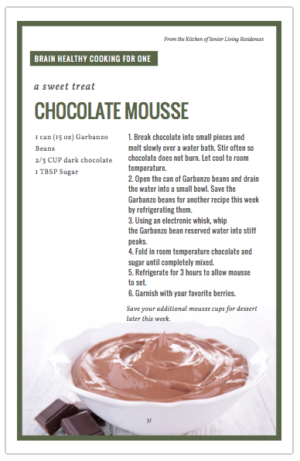 Download
Directions
1. Break chocolate into small pieces and melt slowly over a water bath. Stir often so chocolate does not burn. Let cool to room temperature.
2. Open the can of Garbanzo beans and drain the water into a small bowl. Save the Garbanzo beans for another recipe this week by refrigerating them.
3. Using an electronic whisk, whip the Garbanzo bean reserved water into stiff peaks.
4. Fold in room temperature chocolate and sugar until completely mixed.
5. Refrigerate for 3 hours to allow mousse to set.
6. Garnish with your favorite berries.