Every year Senior Living Residences hosts a Top Chef Cook-Off Competition. Chefs from all of our Assisted Living communities compete to create recipes celebrating the cuisine, art and culture of countries around the world for our very popular Grab Your Passport Program.
One important caveat of our competition is that, in addition to creating tasty dishes with a fabulous presentation, everything must also boost the brain and overall body health of our elderly residents, in keeping with our Brain Healthy Cooking Program.
Well, we are constantly raising the culinary bar! This year our chef at Compass on the Bay won the coveted Top Chef award for celebrating the cuisine of Portugal.
You can make these winning recipes right at home!
Portuguese Bacalhau Stew (Salt Cod)
Serves 6 to 8.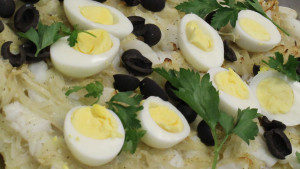 Ingredients:
1 LB salt cod fillets, preferably skinless and boneless
3/4 to 1 CUP of extra virgin olive oil
2 large yellow or sweet Vidalia onions, sliced
2 LBs waxy potatoes (Yukon gold work great), peeled
4 eggs, hard boiled and sliced
About 40 pitted black olives (I used Kalamata olives, but you can also use green olives)
Kosher salt and freshly ground black pepper0
Approx. 2 CUPs Milk (optional)
Approx 2 CUPs Water
Directions:
Salt cod typically comes either in dry fillets, already boned and skinned, or it comes whole. The fillets need to be rinsed, then soaked in water, and kept chilled, for 24 hours, with one or two changings of the water. If you are using a whole fish, not prepared fillets, it needs to be soaked in water for up to 48 hours, also with several changings of water, and the bones and the skin removed and discarded after soaking.
Put salt cod in a saucepan. Add enough milk, water, or a mixture of milk and water to just cover. Bring mixture to a simmer. Let simmer for a couple minutes. Remove the fish and set aside.
Parboil the potatoes for 20 minutes (you can cook them in the water you used to cook the fish), drain and slice potatoes into 1/4-inch thick rounds.
In a large pyrex casserole dish or Dutch oven (use Dutch oven if making on stove-top), generously coat the bottom of the pan with olive oil. Place a layer of onion rings over the bottom of the pan. Place a layer of sliced potatoes over the onions. Breaking up the salt cod with your fingers, place pieces of salt cod in a layer over the potatoes.
Generously pour some olive oil over the fish. Sprinkle with freshly grated black pepper.
Repeat with another layer of onions, potatoes, fish, olive oil, pepper (and more salt if needed). Then finish with layers of onions, potatoes, more olive oil, sliced hard boiled eggs, and olives.
Place on stove top on medium heat, and cook, covered, for 30 minutes. Or heat an oven to 350°F and cook, covered, for 30-40 minutes, or until everything is completely through.
---
Portuguese Rice Pudding
Serves 6 to 8.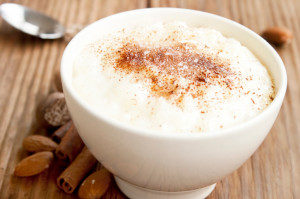 Ingredients:
1/3 CUP currants
1/4 CUP ruby Port
1/2 CUP short round rice, such as Paella rice or Risotto rice (Arborio)
3 – 3 1/2 CUPs milk
2 cinnamon sticks
Grated zest of 2 lemons
1/2 tsp salt
1/4 CUP brown sugar
1 TBS unsalted butter
1/2 tsp ground cinnamon plus more for garnish
Directions
Combine currants and Port in a small bowl and set aside to plump.
Wash and drain the rice. Place in a large saucepan with plenty of water to cover. Stir, and bring to a boil over medium heat. Boil for 5 minutes, to blanch the rice.
While rice is cooking, place 3 cups milk in a medium heavy bottomed saucepan, add cinnamon sticks, lemon zest, and salt. Bring to a simmer over medium heat. Turn off heat and let infuse until rice is ready.
Drain rice in a colander, rinse with warm water, drain again and set aside.
Place rice in another medium heavy bottomed saucepan, and ladle in 1 cup warm milk. Stir well with a wooden spoon, then turn on low and cook gently, stirring occasionally, until milk is absorbed. Ladle in 1/2 cup warm milk, stir, and cook until absorbed. Continue in this manner until you have used up all the milk (remove and discard the cinnamon sticks).
With the last 1/2 cup of milk, stir in also the sugar, butter, ground cinnamon, and the plumped currants in Port.
When the last addition of milk has been absorbed, turn off the heat and evaluate the consistency against your personal rice pudding preferences, bearing in mind it will be thicker when chilled. Add 1/4 cup to 1 cup additional milk (cold is fine) as desired. Turn pudding out into a medium serving dish or divide between six individual serving dishes and decorate top with ground cinnamon.
Portuguese rice pudding is cooked entirely on top of the stove in a risotto like manner. It traditionally is thickened and enriched further with egg yolks, but has a voluptuous texture even without them, and is lower in fat. The classic Portuguese seasonings are lemon and cinnamon, but not vanilla. Use ground cinnamon to decorate the top; easiest way is sifting through a doily.
Port, or Porto, comes from Portugal and is considered one of the great dessert wines of the world. It is a fortified wine, meaning that brandy is added. Most Port is made from red grapes and is served after the meal. Ruby Port is full, fruity and young; tawny ports have been aged in casks and are mellower. One can also find white Port, which is made from white grapes, and is drunk before the meal.