A well informed consumer is more likely to investigate the real value of their purchase or investment. To make an educated decision when it comes to senior living, it is important to understand the terminology and expectations in order to put things into perspective.
This list of frequently asked questions related to paying for assisted living can help you to better understand your needs, properly compare communities, and ultimately help you find the residence that is right for you.
1. How much does Assisted Living cost per month?
The cost of assisted living is based upon the type and features of the apartment and the amount of services needed by a specific resident. Monthly fees cover rent, utilities, the dining service, housekeeping, personal care and many other services and amenities. There may be additional charges for items such as guest meals, room service, special recreational events, transportation, personal laundry, etc. It can be hard to compare apples to apples, because Assisted Living communities charge differently for personal care and ancillary services.
2. How do most people pay for Assisted Living?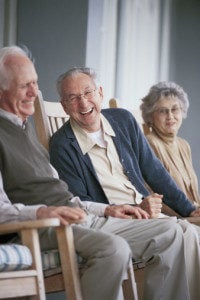 Most people pay for Assisted Living with current income from social security and pensions coupled with the use of savings, including the proceeds from selling a home. Long Term Care Insurance is more and more widely used to offset the cost of Assisted Living. Medicare and other health insurance plans and HMOs will NOT pay for assisted living services. There is, however, a program for veterans that will contribute over $1,700 a month (and over $2,000 for couples) called the Veterans' Aid and Attendance Benefit.
Financial assistance programs, including Medicaid, may be available for those with limited resources, although not every Assisted Living community participates in these programs.
3. What is typically included in the monthly fee?
Typically you get most of what is necessary for your loved one to live comfortably in the basic monthly fee. This includes an apartment, ranging from shared accommodations to private apartments (typically studio, 1BR or 2BR), typically two to three meals per day, utilities (heat, AC, electricity), maintenance, weekly housekeeping and laundry of bed linens, organized programs for social, fitness, cultural and educational pursuits, and 24 hour staffing. Help with personal care needs such as bathing, dressing and grooming, as well as medication assistance, will be available but may or may not be in the basic fee.
Transportation to medical appointments and recreational trips, personal laundry service, beauty salon services, and escorts and reminders for meals and activities may be available. These services may be included in the monthly fee or they may incur extra charges.
4. What is NOT included in the monthly fee?
Typically residents pay directly for Cable TV, internet and telephone service for their apartment home (although more and more communities have free WIFI throughout the building). Residents pay for their own personal toiletries, health and beauty aids, hairdressing, clothing, medical care, medications, incontinence supplies, and dry cleaning. Very often medication management and incontinence help are not included in the basic fee.
5. Is the monthly fee a set rate or does it change?
Most Assisted Living communities have a year-long lease that residents sign, just like renting an apartment. The base monthly fee will be a set amount outlined in the lease, but the total monthly cost depends on the fee system used to calculate personal care where your Mom or Dad lives. Also keep in mind that most Assisted Living communities will increase their fees every year to keep up with the cost of living.
6. Why do costs vary between communities and companies?
Costs may vary by the amount and kind of personal care assistance included in the service package, by the size, location and special features of the apartment, by geography, and by the company. Some companies charge more than others, perhaps because they need to maximize profits for stockholders or they have a large corporate headquarters with more overhead.
7. What upfront fees should we expect?
Most Assisted Living communities charge a Community Fee, a Health & Wellness Assessment Fee or something similar. Typically, this fee covers the cost of the healthcare/wellness assessment, the service plan. Additionally you may be asked to pay first and last month's rent and sometimes a security deposit. This is similar to what you would encounter in renting an apartment.
8. Do Assisted Living fees cover medical services or prescription costs?
That depends on your state. In Massachusetts, Assisted Living communities cannot provide any medical or skilled nursing services but many of them do have relationships with local medical professionals who can provide care conveniently onsite.