Many people confuse assisted living with nursing homes. The two are very different.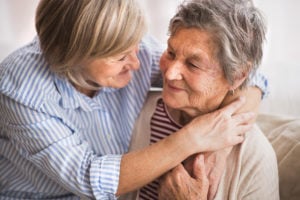 Assisted living is perfect for those seniors want to live independently but find it isolating at home and need some help managing everyday activities. Assisted Living promotes independence and emphasizes wellness in a warm, dignified, community setting. Residents live in their own private apartment that they can furnish and decorate as they choose. Residents choose what they want to eat at meals in restaurant style dining rooms, and they have the freedom to decide which activities they want to participate in or how they want to spend their day.
Nursing homes take care of people who are sick and need round-the-clock skilled nursing care. Their institutionalized settings are often not conducive to encouraging independence. Health care experts estimate that up to 30% of elders residing in nursing homes actually do not need round-the-clock care. Assisted Living offers them a place to call home that offers more cheerful surroundings, privacy, space and dignity than is typically found in a nursing home, and at a lower cost.
Want to better understand what assisted living is and isn't? Find more resources at the Assisted Living Family Resource Guide.