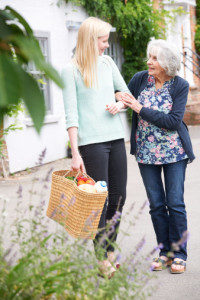 I believe that it takes just one person to make a difference.
Many of us have someone in our lives living with Alzheimer's disease or dementia. Imagine for a moment you are that person. In many cases you may know that something is wrong. You may notice your friends coming around a little less often. You may see your family members retreating. You may hear your neighbors whispering. And if you were in the more advanced stages, while you may have lost significant self awareness, you would sense the negativity, the isolation and the fear – the stigma.
If you were living with dementia or beginning to exhibit signs of Mild Cognitive Impairment or other memory loss, having just one person in your life who would empathize, and be patient, understanding and supportive could make all the difference in the world.
Increased awareness of dementia and better knowledge of this affliction, knowing how it affects our families and communities and understanding how any one of us can help, would truly enhance the quality of life for those living with it. This is the basis for a Dementia Friendly Community.
Our seniors built our communities and spent their lives supporting our communities; as a society we need to be here for them when they need us most. The prevalence of diseases like Alzheimer's is staggering. One in three seniors dies with Alzheimer's or other related dementia. One in four of those seniors are undiagnosed, and more than two-thirds of them live alone. The time to become 'Dementia Friendly' is now.
The Dementia Friendly concept is not new. It has been happening in places like the UK and Australia for several years. A few isolated places in the US have taken on this cause, including programs in Minnesota, Wisconsin and Massachusetts, but, unfortunately the media rarely covers it. Organizations like the Alzheimer's Association and the Alzheimer's Foundation of America seem to be talking about dementia friendly but have not yet launched a large-scale effort. Meaningful programs to help support Dementia Friendly Communities are hard to find, but many individual organizations and workplaces across the country want to do more.
At Senior Living Residences, the organization behind this blog, we launched Dementia Friendly Massachusetts two years ago, a campaign that aims to create change through education. Our goal is to teach community members and families, elder care professionals, emergency responders, hospital workers and municipal employees about dementia and its causes, to help to build understanding and empathy through interactive training workshops and to offer practical advice for working and communicating with those who have dementia. We are looking to share our educational and training materials with anyone and any organization who wants to help advocate for more Dementia Friendly Communities, not just in New England, but anywhere.
There is no cure for Alzheimer's disease. It is a progressive disease and dementia is an inevitable symptom. In the next 30 years the number of people living with Alzheimer's and dementia is expected to triple. Research is imperative to understand and eventually stop this epidemic, but we need more people to participate earlier in order to move forward. This will not happen when the problem is shrouded in stigma. It will not happen without awareness and understanding.
Support and hope are vital for people with dementia, as well as their families, friends and carers. Let's build more neighborhoods, towns and cities where people with dementia can feel safe and engaged, and remain as independent as long as possible. If you want to join the movement, we suggest you start here.