Driving by mature citizens is one of the most difficult issues we face as a society. Although we all agree that aging can impair certain functions required to drive, such as eyesight, we do not agree on when the impairment reaches the point that driving is not safe.
Legally, in Massachusetts, the test for driving is applied on a case by case basis. The only exception to this rule is that every driver over age 75 must renew his or her license in person, and either pass a vision test, or present a vision certificate. Other than that, every driver is presumed to be able to drive safely until proven otherwise.
Reporting Unsafe Elderly Drivers
Massachusetts police officers have the power to cite a driver for improper operation or for a "general complaint." A police officer may take action if he or she witnesses the improper operation, or if the police department receives a number of complaints about a driver. Any person may make an unsafe driving report to the Registry of Motor Vehicles or to the local police. In that event, a police officer will often visit the driver's home and inform the driver that he or she will be receiving a notice of suspension. The notice of suspension means that the driver must cease driving immediately and a hearing is required in order to reinstate the license.
Seniors Driving With Medical Conditions
A license can also be suspended because of a medical condition or medication which causes improper operation of a vehicle. A doctor can initiate this type of suspension. Again, a hearing is required to reinstate the license.
The hearing officer can require a driver to re-take a driving exam. If the driver is unhappy with the results of the hearing, he or she can appeal.
Taking the Keys Away from a Family Member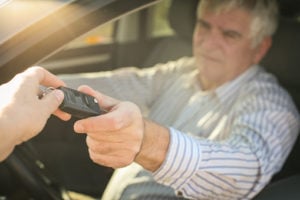 Frequently, other family members realize that a senior should stop driving before the senior realizes it him or herself. In those cases, the family may wish to consult with a doctor, geriatric care manager, or a member of the local Council on Aging for advice concerning how to approach this sensitive issue. Some families utilize the senior's doctor to explain that driving is no longer safe. Others have to resort to reporting the driver to the local police.
It is so difficult to stop a family member from driving when he or she does not want to stop, that many families just ignore the problem. However doing so can have devastating consequences; the driver may become lost or may hurt him or herself or others. If the driver hurts another person or destroys property, the family members who know the senior should not be driving, but do not take any steps to stop the driving, may be held liable.
Resources for Older Drivers
Luckily, there are many resources available to help older drivers and their families with the process of determining when it is time to stop driving (or stop driving at night) as well as resources to help improve driving skills.
Check out seniordrivingaaa.com/smartfeatures for a wealth of online resources including a CD with exercises which can be taken in the privacy of your home to evaluate driving ability.
AAA also has a guide for older drivers called "How to Help an Older Driver." The guide reviews how age affects driving, how medication affects driving, how to assess your driving skills, choosing options in a car which will help older drivers, and how to overcome resistance of a family member when it is time to stop driving.
When a senior actually stops driving, it is important to research alternate forms of transportation. Find out about local resources through your Senior Center or Council on Aging.
You may also be interested in this AgeRight.org article on Driving and Dementia and this NPR piece on planning your Driving Retirement.