There is so much research out there that now shows how artistic activities can be an effective means of communication for people experiencing symptoms of Alzheimer's disease or related dementias. So when I started a Photovoice project in the Compass Memory Support Neighborhood at Neville Place where I am the Director of Programming, I was really hoping to see it provide new, creative opportunities for residents to express themselves.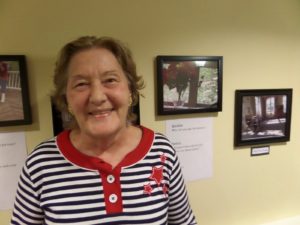 Photovoice is a unique concept, developed by Caroline Wang, PhD and Mary Anne Burris of the University of Michigan, aiming to empower individuals to express themselves through photography by capturing images of interest and describing the meaning behind them. Photovoice projects are often used to give voice to populations that may struggle with telling their stories. It is a wonderful fit for those with cognitive impairments.
The process was beautiful as I came to learn what was important to each individual, whether it be wild flowers in a garden or the contents of their purse. I started the activity by saying you can take a picture of anything you want, and then I handed them a camera. Some residents chose their subject matter rather quickly, making comments like "I only take pictures of people." Others took their time, holding up a matte frame to help them visualize a pretty picture. Using the camera was fun for some and challenging for others whose dementia was more advanced. However, the most important aspect of any activity done by seniors is the experience, not the result.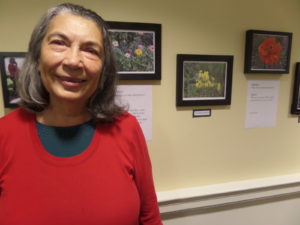 Immediately after the picture was taken I would ask "why did you take that picture?" Responses ranged from thoughtful and poetic to more in the moment responses, like "because you told me to take a picture!" But whatever the reason, the end result was amazing. The photos were framed and displayed along with their quotes at Neville Place's annual Art Show. Members of the greater community, families, staff and residents were invited to eat, drink and browse photos taken throughout the project. Several guests commented on how impressed they were with the work.
Photovoice is known for giving a voice to people who may otherwise struggle with verbal communication. For this group, it also provided the artists with a sense of pride in seeing their name attached to their work. I asked one resident how it made her feel and she said, with a big smile, "It feels good." Completing this project with our residents really reminded me that passion and creativity have no age limit and can transcend beyond the perceived limitations of Alzheimer's disease.