There is no shortage of information on the internet regarding the latest health tips, dieting trends and eating habits, so picking the right diet for your health and body's needs can be tricky and hard to navigate. A question I get often from the residents in our assisted living communities is "What's the best food for my Type 2 Diabetes?"
The Mediterranean Diet has been continuously shown through research to have abundant health benefits for people at any age, and it has many specific health benefits for seniors.
The Mediterranean diet was recently names the #1 Best Diet Overall and Best Diet for Diabetes by the U.S. News & World Report. Research shows that following the Mediterranean Diet increases executive and cognitive functioning, but also helps with the prevention and management of chronic diseases, including type 2 diabetes, and decreases the neurodegenerative symptoms associated with dementia and Alzheimer's disease.
Unlike other diets, the Mediterranean diet is easy to follow and implement into your daily routine and meals – keep reading to learn more!
Research Proves Positive Impact of Mediterranean Diet on Diabetes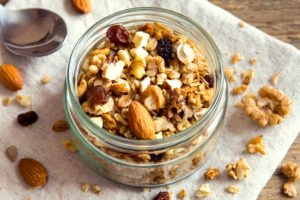 Having Type 2 Diabetes has long been a risk factor for Alzheimer's and related dementia causing diseases. A recent study from the Harvard T.H. Chan School of Health, published in Diabetes Care, discusses the positive impact of the Mediterranean diet on cognitive function for those living with type 2 diabetes.
This two-year study recorded the eating habits and tested the executive function, memory, and cognitive performance of 913 participants of Puerto Rican descent. The results showed that diabetics who followed the Mediterranean diet had improved memory and experienced an overall increase in cognitive function, word recognition, and clock drawing skills. While non-diabetics experienced an increase in memory skills, they did not experience the same cognitive benefits that diabetics did.
Though any individual can benefit from the increased memory skills and overall increase in health, the Mediterranean diet led to more cognitive health benefits for those with type 2 diabetes.
Another recent study, published by MDPI in their academic journal, Nutrients, looked at "Cardiodiabesity", a phrase that describes the relationship between obesity, cardiovascular disease, metabolic syndrome, and type 2 diabetes. Researchers looked at over 50 studies to determine the impact of the Mediterranean diet on cardiodiabesity and found that following the Mediterranean diet has a variety of health benefits for obese or overweight individuals. The diet improved the general health of obese individuals while reducing their risk of mortality. Evidence also showed that adhering to the Mediterranean diet prevents cardiovascular disease, plays a role in the prevention of type 2 diabetes, improves metabolic syndrome, and reduces its incidence in overweight individuals.
Following the Mediterranean diet also has many health benefits for non-obese individuals, including preventing an increase in waist circumference and weight gain as well as decreasing the occurrence of Type 2 Diabetes and cardiovascular disease in healthy individuals. Overall, the Mediterranean diet offers a vast amount of health benefits for any individual who may be at risk of developing type 2 diabetes, cardiovascular disease, and / or metabolic syndrome.
What's So Special About the Mediterranean Diet?
Based on the lifestyle and traditional cuisine of countries around the Mediterranean Sea, the Mediterranean diet has been repeatedly shown through research to be one of the healthiest and most beneficial diets for people of all shapes and sizes. It emphasizes a large consumption of fruits, vegetables, whole grains, beans, nuts, seeds and spices, contrasting with the typical American diet which is marked by a large volume of processed foods, refined carbohydrates, fried foods, red meat, sugary foods, and high-fat dairy products. Avoiding high amounts of saturated or trans fats and sodium, the Mediterranean diet focuses on heart-healthy fats and omega-3s that come from fish, olive oil, and nuts. These heart-healthy food groups are linked to an increase in overall health and weight loss, as beneficial in maintaining the body's blood sugar, blood pressure, and cholesterol levels. One of the most striking benefits is how the Mediterranean diet can improve brain function.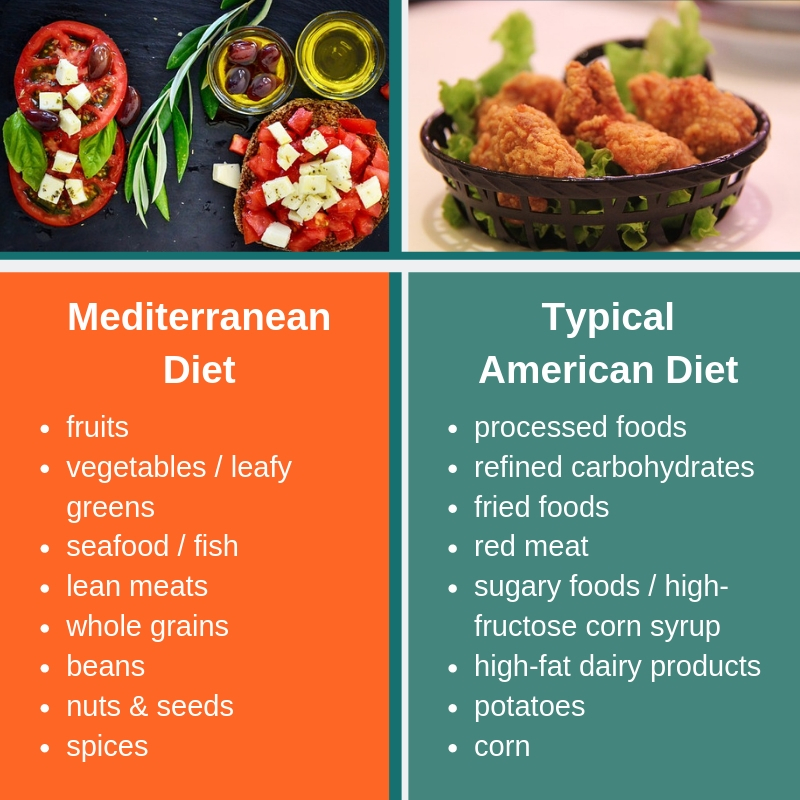 Link Between Alzheimer's and Type 2 Diabetes:
Researchers at the Joslin Diabetes Center conducted a study showing how impairing insulin signaling in the brain can negatively affect cognition, mood and metabolism, known symptom markers of Alzheimer's disease. When insulin growth factor (IGF1) receptors in the brain were blocked, which are essential for learning, memory and mood, the negative effects were striking: anxiety and depression, fluctuating glucose levels, and a decline in cognition. This study revealed the inherent link between impaired insulin signaling you would see in someone with type 2 diabetes, and an increased risk of developing or showing symptoms of Alzheimer's disease. Though not everyone with type 2 diabetes will develop Alzheimer's disease, this study provides helpful insight into a diabetic's potential risk of developing neurodegenerative symptoms. Knowing this potential risk may inspire those diagnosed with type 2 diabetes to consider changing their dieting habits to model the Mediterranean diet.