June is National Home Safety Month which provides a good reminder to make some easy changes in your home to ensure the safety of your loved one with Alzheimer's. home-safety-alzheimers
#1 Reduce the Risk of Falls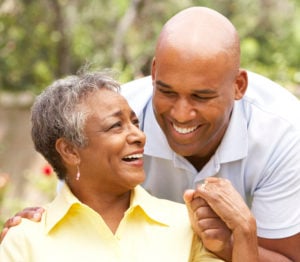 According to the National Safety Council, which promotes National Home Safety Month, falling is the third leading cause of unintentional-injury-related death over all age groups, but it's the #1 cause of death for those 65 and older.
Therefore, the #1 thing you can do to create a safe environment is to reduce the risk of falls. Read through the National Safety Council's tip sheet on reducing falls in your home, which include common sense solutions, such as creating uncluttered walking paths by removing trip hazards, such as area rugs and small tables and furniture.
#2 Reduce the Risk for Wandering
Monitor your loved one's movements in the house and anticipate incidents of wandering. Remember, everyone with Alzheimer's disease is at risk for wandering! Use a motion sensor alarm or child monitor to alert you at night or if you are in another area in your home. Place locks on the tops and/or bottoms of doors (they are less visible here) and enroll your loved one in the Alzheimer Association's MedicAlert and Safe Return program.
#3 Remove or Minimize Unsafe Devices
(NOTE: I have linked to some specific products on Amazon, however this does not imply an endorsement of a brand. I just want you to see an image of what I am talking about).
Remove sharp knives and scissors. These everyday items can be a hazard for individuals with impaired judgment and cognition who may not even remember what exactly they are used for. I heard a story about a woman with Alzheimer's using a very sharp kitchen knife as a hairbrush; thankfully her daughter quickly intervened.

Speaking of unsafe devices in the home, if you have firearms, keep them in a locked cabinet and store ammunition separately. If you wish to consider removing firearms from your home altogether, your local law enforcement can assist with this.

Be aware of prescription medications, vitamins and over-the-counter remedies that may be toxic if ingested in large amounts. Consider keeping medications locked, out of the medicine cabinet and away from the kitchen or bathroom counters.

Utilize

child-proof locks and door knob

covers to limit access to toxic cleaners, knives, appliances and unsafe areas.

Unplug small kitchen appliances when not in use and remove your stove's knobs or get

stove knob covers

to prevent burns and fires. Also be careful about hairdryers. If left on they can cause fires too.

Consider removing locks from a bathroom door so the individual does not become locked in. Remove bath mats, monitor slippery surfaces and install safety grab bars.

Denying someone the right to drive is an issue fraught with conflict. However, you must not allow someone with memory loss to drive. Therefore you should hide your car keys because they can trigger a desire to drive.
Check out these Resources