Even if you or your loved one is still living comfortably at home, it doesn't hurt to know the differences and advantages of each type of senior living options. In this post, I will cover the four major types of senior residences: independent living or retirement communities, assisted living and memory care assisted living, continuing care retirement communities, and nursing homes. Let's get started.
[Everything you need to know about senior living options in 2 easy graphics!]
---
Independent Living / Retirement Communities:
Independent living allows seniors to remain within their own apartment home as they are still able to perform daily tasks such as cleaning, driving, scheduling appointments, taking medication, and cooking. This is generally for people who do not have any major health risks and do not need extra supervision from either a home-health provider or a licensed nurse. Generally, independent living or retirement communities exist within single apartment complexes, condos, or even free-standing homes situated around a club house or activity center. Sometimes residents choose to purchase a unit within a retirement community simply for the social aspect of becoming friendly with people their own age with activities nearby. Other times, people choose it because they would like to live in a home or apartment that does not require too much maintenance. The major advantages to independent living are living autonomously with access to transportation/age-related services, and a rich social network of friends.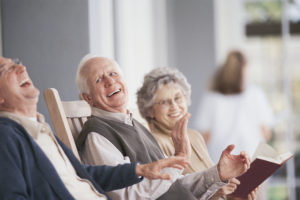 Continuing Care Retirement Communities (CCRCs), a type of Independent Living option, offer a campus of living options designed to help seniors age in place and providing necessary services as one requires more medical attention. Generally, CCRCs include independent living apartments, an assisted living neighborhood or assisted living care options, and skilled nursing services within the same campus. How it works: A resident purchases a unit and as their needs change, the monthly fee to live in the community increases with the higher levels of care. This option also allows spouses to stay close together even if one requires more attention than the other. If this option appeals to you, plan early, there are often waiting lists for the different neighborhoods at a CCRC.
---
Assisted Living & Memory Care in Assisted Living:
Generally, assisted living is a wise housing option for seniors who need help with some daily-living tasks commonly known as ADLs. Maybe they need help with medications, cooking, or have lost a spouse and are not capable of living alone in the housing situation described above. Prices fluctuate depending upon the amount of care needed, but with assisted living, staff caregivers are usually available around the clock.
Some assisted living communities contain single-living apartments with kitchens or kitchenettes, while less expensive options may allow residents to share rooms. Although less independent than retirement communities, assisted living residences have activities, a vibrant social community, and usually group-dining which makes meeting new people easier.
Many Assisted Living communities now offer specialized programming and/or secure memory support neighborhood options designed to help those with Mild Cognitive Impairment or Alzheimer's disease.
In general, assisted living is a good choice if your loved one needs more socialization or personal care than they can get living alone, if they need assistance with accessing nutritious meals on a daily basis, or if they need medical supervision, but not the amount of attention supplied by a nursing home. This can also be a great option if the medical needs a senior has can be supplied by bringing in nursing services to the Assisted Living community.
---
Skilled Nursing Facilities / Nursing Homes:
A nursing home is usually the highest level of medical care someone can receive outside of a hospital. Here, licensed medical professionals supervise each resident's care and a nurse is always available on the premises, 24 hours a day. Also, there are both occupational and physical therapists typically available as well.
Skilled nursing is the right choice if one requires 24 hour medical care – such as because of a fall or a stroke or other medical condition. You may also be advised to seek skilled nursing or rehab services on a temporary basis after a hospitalization or other health event. Here, seniors would return home or to their independent or assisted living community after a successful recovery.
---
There is No Cookie-Cutter Solution for Everyone…
Although picking the right living option seems simple, you should always consult your loved one's doctor and of course the seniors themselves. There are many options available to aid in the decision, such as a social worker, or even agencies and organizations which specialize in moving seniors into senior residences or facilities at no cost to you. Social workers and eldercare agencies can also tell you if you are eligible for federal or state aid, sometimes improving the quality of the community your loved one will live in by increasing your price range.
Interested in more information about finding the right senior living situation?