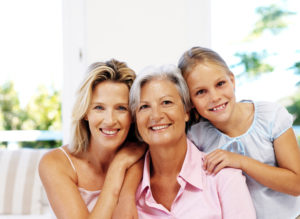 Almost 20 percent of adults provide care to a family member or friend who is age 50 or older. Most of these caregivers are caring for a spouse or are the adult children caring for a parent. Care for caregivers is often overlooked, however, when a loved one needs help.
Why Care for Caregivers is so Important
Today's caregivers are doing everything from grocery shopping and errands to preparing meals and managing finances. As a loved one's health declines, often they assist with the basic activities of daily living like getting dressed, showering, going to the bathroom and eating, most often because of confusion, forgetfulness, or diagnosed Alzheimer's disease or related dementia. As caregivers take on these added responsibilities, often over a prolonged period of time, they can become completely stressed and exhausted. It becomes incredibly difficult to care for someone else if you are not caring for yourself.
Studies have shown that stress causes:
Irritability
Sleeplessness
Digestive problems
Increased risk of health problems like stroke, or even Alzheimer's disease
Caregiver stress can cause and worsen chronic diseases such as depression, diabetes, heart disease and cancer.
Consider a Short Term Respite stay
A few days off can make a world of difference. A short term or respite stay at a local assisted living community gives caregivers the break they need to de-stress and recharge.
Care for their own well-being diminishes as a caregiver becomes more entrenched in the process of caregiving. They skip meals and doctors' appointments. Their social life declines. As a result, their own health starts declining. The stress is literally killing them and because of all this, they are losing their ability to care for their loved one effectively.
Benefits of a Short Term Stay in Assisted Living
Most caregivers don't know that they have the option of a respite stay, and if they do, they may feel guilty taking advantage of it. A respite stay gives the caregiver the opportunity to be the son or daughter, husband or wife again. Your loved one gets to be Mom or Dad or Spouse again, not a "patient". The benefits of a respite stay can be very powerful.
Try Out a Supportive Living Arrangement
Families that take advantage of a respite stay can also see how their loved one would do in a supportive residential setting. Some communities have no minimum stay requirement making this option very flexible for families. The community provides respite residents with a fully furnished apartment as well as three meals a day and an array of personal care services. Respite residents can also immediately participate in the daily activities of the community. All you need is to show up with a suitcase!
The social benefits of staying in an assisted living community generally has a huge positive impact as well. In many cases at home, the individual is encountering only one to two people per day. Many times they are confined to a room or a chair or bed. These same individuals would be more active an involved during a stay at an assisted living community. Residents are engaged all day in various activities. Furthermore, after a respite stay, families often realize that their loved one may improve and even thrive in an assisted living community.
Share this information if you know someone who could use a well-deserved break from their role as a family caregiver. Contact your local assisted living community to find out about respite and short term stay availability near you.