Our health is much more within our control than we realize, especially as we grow older. There is a tendency to simply accept health decline as an inevitable part of aging, but this attitude ignores the many ways in which senior health can be improved and maintained through healthy lifestyle habits. What's more, the wealth of resources available online has made it easier than ever for seniors to get the information they need to stay healthy as they age. Below are eight online tools that you can keep bookmarked to reference throughout your journey to improved health.
Senior-Friendly Recipes
Cooking can sometimes be difficult for seniors, either due to physical impairments or because they they find cooking or shopping challenging. This selection of senior-friendly meal suggestions from Care.com contains some delicious, nutritious meals, all of which are quick and simple to make. You can also check out the many easy-to-make, brain healthy recipes provided on this blog.
Smart Home Technology for Seniors
Technology is steadily improving the standard of living for seniors, especially for those living with physical or cognitive impairments. Smart home tech is particularly promising in this area and is becoming increasingly mainstream and affordable. HomeAdvisor.com details some of the best home technology enhancements to help seniors with various forms of impairment remain safe in their homes, such as doorbells and hearing enhancement devices. ConsumersAdvocate.org outlines the Top Hearing Aids based on factors like capability, pricing and reputation.
Medicare Official Website
If you are currently or planning to take advantage of Medicare, it is important to stay informed of any changes to your coverage or to the program as a whole. Use the Medicare.gov official website for news, advice, resources, and information on possible changes to your existing plan.
Exercise Plans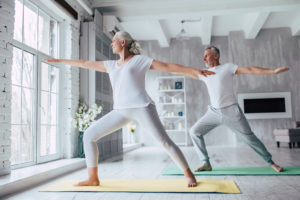 Maintaining a regular exercise routine is a crucial aspect of keeping yourself healthy, but many seniors are intimidated by gyms and exercise classes or may not have means of transportation to get there. Senior Exercises Online has an extensive collection of workout videos designed specifically for people over 60, covering various areas of focus such as strength, balance, and flexibility. It is also important to note that many senior centers offer regular, senior-friendly fitness classes and most senior communities have a fully-equipped recreation center included in a care package – so take advantage!
Guided Meditation for Sleep
Sleep is an often-overlooked part of self-care, and one that seniors struggle with for a variety of reasons. There are many things you can do to help yourself sleep better, but guided meditation is a particularly simple and powerful (and free) tool. This Yoga Nidra meditation uses breathing and visualization techniques to relax and send you to sleep, and is very highly rated. Give it a try!
AARP's HomeFit Guide
This HomeFit Guide, published by AARP, breaks down the ways seniors can make their homes more accessible. It includes a room-by-room breakdown of home modifications for aging safely in place, such as stairwell lighting and furniture placement, as well as budgeting advice and practical tips for getting the "right fit" for your needs, like bringing in a "Certified Aging-in-Place Specialist".
Staying Social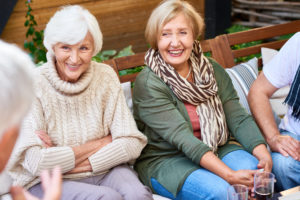 Seniors often struggle with maintaining a healthy social life, which is one of the most common causes of depression and mental health problems later in life. If getting out to your local senior center is a challenge, and a move to assisted living isn't the right fit for you, the internet is a great place to meet people. There are thousands of ways to make new friends online by joining online communities and social media groups centered around your interests. And, if you want to meet new people in real life, Meetup is a great resource that shows you various activities in your area. Read more about the link between staying social and aging well »
Learn a New Language
Engaging in lifelong learning is one of the best ways to prevent dementia and cognitive decline as you age. You can pick up any new skill, hobby or activity you like, but language learning is an especially useful way to keep your brain active. Duolingo offers structured, accessible lessons in dozens of languages, and is as fun as it is educational.
Many seniors may be unsure how to navigate the internet, so it is useful to keep a note of the websites that are likely to be useful and that you use most often. As you grow more comfortable with these resources, you can start looking for your own and finding new ways to leverage technology for your health. For now, these will get you on your way to enjoying a fit, healthy and fulfilling lifestyle.