Imagine your Mom or Dad getting out to medical appointments, lunch with friends, the senior center, and the grocery store whenever they wanted to – without a hassle, without waiting for you to drive them, and without waiting forever for the public transportation or senior center van service to arrive.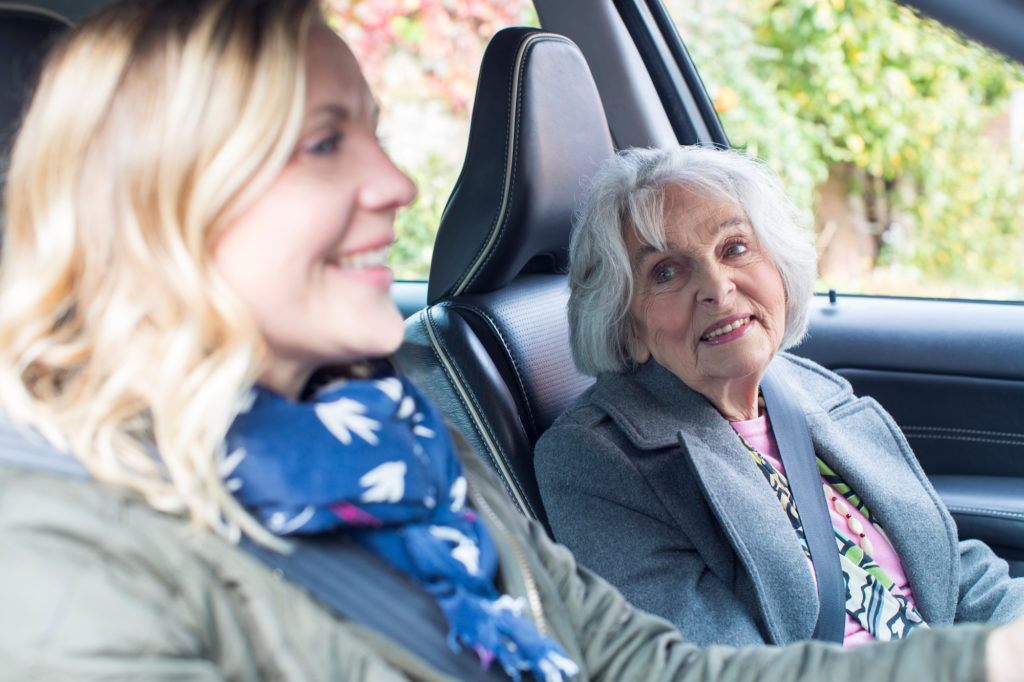 Ride-hailing apps, like Uber and Lyft, can revolutionize the way seniors, who don't drive anymore, live their lives. It could literally pull them out of isolation and back into the social world. When my Mom stopped driving, she couldn't get to the neighborhood coffee shop (her daily "Cheers" fix) to meet up with friends and neighbors, unless someone was around to take her. I wished she was comfortable calling an Uber driver. What I'm really looking forward to is the huge revolution when autonomous cars come onto the scene. That will really improve seniors' mobility and independence. But, in the meantime we have Uber and Lyft.
Why are seniors hesitant to use rideshare apps?
Using these apps isn't a popular transportation option like it is with younger generations. When I talk to my elderly relatives about it, they are concerned about several things:
Using an app on a phone is foreign to them, even if they have a smartphone. Not to mention that many seniors 80+ don't use a smartphone. We insisted my 87-year-old Dad get one after his car broke down. He was sitting by the side of the road forever because, of course, everyone who drove by assumed he had already called for help. He never uses the phone – doesn't even keep it in his car – he just can't get the hang of how to use the thing!

Having their bank account or credit card information "stored" on an app feels like it could be open to abuse. I understand that concern with the constant news stories of

data breaches and elder financial abuse

.

Getting into a stranger's personal car alone feels like a safety risk. Again, I completely understand that.

Of course, cost is a huge concern to seniors on fixed incomes. They need affordable transportation.
So, I did some research to see how the ride-hailing apps might be addressing these concerns to tap into this huge lucrative consumer market. There is already a lot in place, and even more in development, that bypass the need for older riders to use apps or even have smartphones at all to arrange a ride. Some of these services also address cost. Nothing yet, though, seems to address the concern about personal safety. With that said, seniors need to keep in mind that the vast majority of Uber and Lyft drivers provide rides to lots of people without incident.
Transportation options for seniors
Uber and Lyft are contracting with third parties, such as health care systems, senior centers and even senior living communities to arrange rides. The "

Uber Central

" service is an online platform allowing these third parties to arrange and pay for rides for their customers. One senior living company keeps track of the costs and passes them along to residents in their monthly bill.

According to a recent

New York Times Article

, "Uber Health" already has over 1,000 hospitals and medical facilities across the country signed up, including the Boston Medical Center near where I live, for "nonemergency medical transportation" to provide help getting to medical appointments. Instead of spending money on taxi vouchers, hospital case managers and social workers are using Uber or Lyft to provide transportation to get patients to or from clinics and offices.

Seniors without smartphones can call

GoGo Grandparent

on a standard telephone to arrange a trip on Uber or Lyft. A charge of 27-cents-a-minute is tacked onto the ride-hailing fees. Seniors who subscribe to a service called

GreatCall

get a "jitterbug" phone that does lots of things, including connecting customers with operators who

book Lyft rides, even alerting the driver that an elderly passenger may require assistance. Billing for the ride then appears on their monthly GreatCall statement.

(A less expensive option: family members can arrange for Uber and Lyft to pick up older relatives.)

Several senior home care companies have launched programs with Lyft, and a homecare company in California, Arizona and Texas launched a

RideWith24

program providing public access to Uber via a toll-free number.

Lyft announced that it expects to partner with most Medicare Advantage programs, which cover the cost of subscribers' rides to medical appointments and pharmacies, next year. (Most seniors have traditional Medicare which doesn't cover such transportation.)

Uber has rolled out a new training program "Uber Assist" where drivers learn how to assist people using canes, walkers and wheelchairs.

For seniors in wheelchairs, both Lyft and Uber have launched new programs in several cities to dispatch wheelchair-accessible vehicles. Uber's program is called UberWAV. Using it is a breeze – just scroll down your list of Uber vehicle options in the app and choose WAV. On my app it was dead last in a long list under the category "More" following UberX, Pool, Comfort, and Premium options. An assisted living community in Boston called Standish Village has used this several times to bring a small number of residents on outings – the Uber minivan that transported them fit a wheelchair and three passengers. Right now, this feature is only available in select metropolitan locations, so check your apps before relying on this option.
This is just the beginning of innovation in addressing the urgent need for an expansion in affordable senior transportation services. I am sure that companies, nonprofits and government programs will continue to develop additional rideshare services to keep seniors connected to their communities.
Check out these related articles: