You've made the gut wrenching decision that your loved one with dementia needs a more supportive living arrangement. You've done the research and found a community you think will provide excellent care, great programming to treat their symptoms and social opportunities to boost their quality of life. Ultimately, it can be difficult for your loved one to transition to a memory care community and readjust.
[A Guilty Burden: Deciding to Move a Loved One into Memory Care]
You have a move-in date. Now what?
Here is my tried and true blueprint for helping your loved one make a smooth transition to their home. You and your family have a large role to play in this transition. You also need a tremendous amount of support to make sure YOU are all doing ok, too.

Every individual and every family is different so these are not hard and fast "transition rules". The staff at well-run memory care communities have worked with many many families over the years and they will work with you to come up with the right transition plan that meets your needs while focusing on what's best for your loved one.
Tips: Prior to Move-In Day
There is a lot you can do prior to move-in day to make sure your loved one eases into their new home with minimal disruption.
#1: Schedule a weekday move if at all possible when all managers and the full-time team who will get to know your loved one best are working. Your aim is for them to establish their relationships as quickly as possible. Many adult children want to have their loved one move in on a Friday or over the weekend when they aren't working and have more time. If this is your situation, consider moving in the furniture and getting the apartment set up over the weekend. Then bring your Mom or Dad to move into their new apartment Monday. The time is important too. Bring your loved one in early in the day, preferably before lunchtime. This way they can be having lunch with their new neighbors while you finish up any paperwork or final touches to the apartment.
#2: Have a family meeting with the community BEFORE move-in day (in person or via call/zoom) to discuss procedures. You, and other family members, will be coached on what YOU need to do to help your loved one, and the staff starts on the right foot. The team will walk you through different scenarios of what might happen and coach you through appropriate responses. You should share information about your loved one's routine at this meeting. Do they stay up late, get up early, have a favorite daytime TV show, eat lunch at noon, or watch the news at 5pm? This will help the staff develop their daily schedule around these activities to avoid potential moments of anxiety. It's beneficial to be proactive vs. reactive when caring for people with Mild Cognitive Impairment, Alzheimer's, or other dementia.
Discuss at your family orientation meeting if a "therapeutic fiblet" is appropriate to explain why your loved one is at the community. Examples include: "You'll be staying here while we work on a few things in your house/apartment!" or "This is an extension of your rehab – let's work on getting you stronger before returning home." While this can feel like lying, it avoids a major barrier to a successful transition: anxiety. Discussing this beforehand allows for the entire team to use the same fiblet. It may take a couple of months before the fiblet is no longer needed and your loved one has adjusted to the community.
#3: Work with the community to get to know your loved one. Families are always concerned about whether their loved one will fit in and be able to make new friends. At our communities we create a social profile for each resident to learn all about them: their interests, hobbies and accomplishments. We also get to know them as a person: their personality, their likes and dislikes, and their stage in the disease process. This allows us to pair new residents with others who have similar interests who can enjoy spending time together. Make sure your loved one meets these other residents over a meal or other activity on moving day.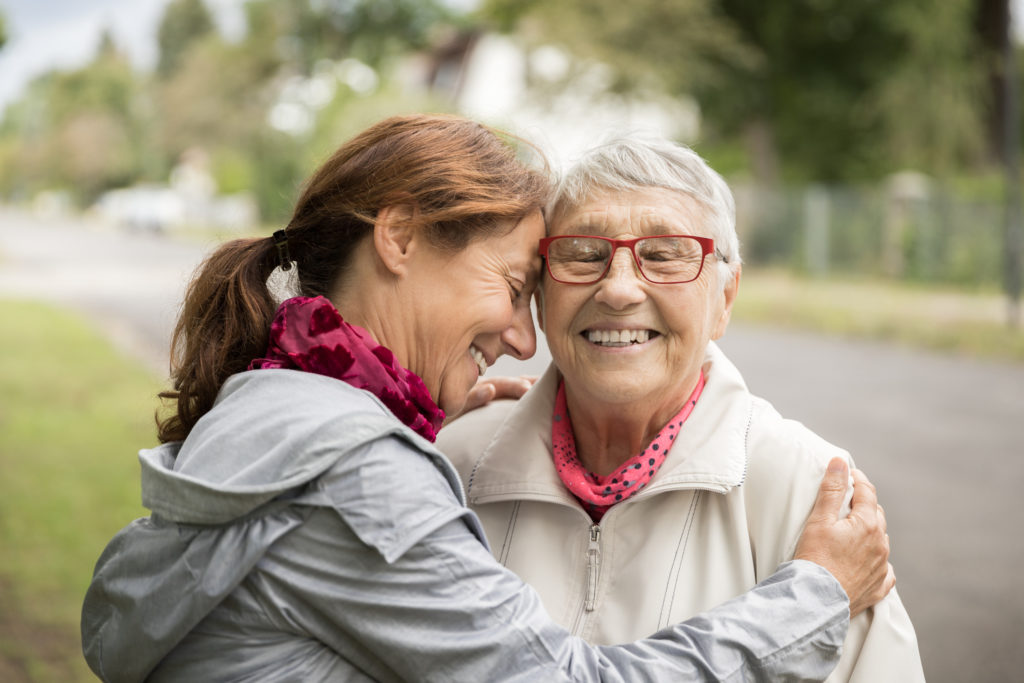 #4: Ask the community for a list of what to bring so you can prepare for the move. We also provide a list to families about what not to bring so they don't spend time and money packing things that actually pose a safety problem. Here are a few of the items on our "do not bring" list: Any toiletries deemed hazardous when swallowed, cleaning supplies, laundry detergents, air fresheners, cough drops, scissors, nail clippers, nail polish and remover. There are more.
#5: Move everything in before move-in day without your loved one there. It will be a more successful transition is everything is done in advance. Get repairs done, and hang curtains or new shades beforehand. Place some favorite home accessories in the apartment such as your loved one's comfy throw blanket, and have a vase of fresh flowers in the kitchenette or on the bureau. Be sure to bring in photographs and hang pictures on the walls! Community associates will use these as redirecting tools, and they help your loved one feel comfortable in their new home. Also, hang a family photo outside your loved one's apartment if there is wall space. This is a nice personal touch and also an excellent way-finding tool while your loved one is getting to know the layout of their new home.
Tips: Move-In Day
This day can be fraught with anxiety and guilt. No matter how confident you are that you've made the right choice for your loved one this can be a difficult day. Every individual and every family is different. I've seen my share of smooth first days and horrible first days.
#6: Don't bring the entire family and hang out for hours. This isn't a day for a large family gathering. This is a day for your loved one to ease into some activities and meet their neighbors and staff.
Here is a real-life example of how one family struggled with move-in day: This was a loving and devoted family. They had a lot of trepidation and guilt about the move, which was scheduled for a Friday. Their Mom wasn't feeling well that morning, so they brought her to the community on Saturday instead. All five adult children stayed with her the entire day. Their Mom had dinner in her apartment and hadn't met anyone all day! When the last one left at 7pm she became frightened and upset. She called one of her daughters sobbing, asking to be taken home. The daughter was so distraught she didn't think to call the community for help. She picked up her Mom and brought her home.
#7: Follow the plan of action laid out at your pre-move meeting, as well as the schedule of activities and meals at the community. Let the staff take the lead. You should have been told to come with just a few people. You can help your loved one put away their clothes and belongings, visit for a little bit, and then leave. Leave when the staff comes to get your loved one to bring them to an activity. This can be a meal or simply to meet and chat with a few other residents who have similar interests. Some families stagger visits: one person brings their loved one in the morning then leaves, another drops in after lunch for a short visit.
#8: Ask the staff: When is the next activity you think my Mom would enjoy? When do you want us to leave? Sometimes the staff can be overly solicitous of family members, and not ask you to leave. If this happens, be proactive. Don't hover or delay leaving. Try not to allow your guilt or anxiety take over. Your loved one will be fine. Remember, the staff are professions in caring for people with dementia!
One successful exit involved the adult daughter telling her Mom: "I'm going to run and grab something from the car. While I'm gone, I have asked [staff name] to show you the dining room to have a bite to eat." This allowed for the staff member to become the companion, instead of the adult daughter. Let the community take control, and know they have the training and experience to redirect your loved one.
#9: Ask the community to be in contact during the day to ease your mind and provide updates. Most often the family designates a main contact so communications with the community can be streamlined. If you are feeling anxious about your loved one, several calls throughout the day will give you a "real time" update. You will speak with a staff member who understands how you are feeling. They can provide comfort to you, too! Feel free to ask the community to text or email you photos. We LOVE sending pictures to families. Certainly, especially when their loved one is enjoying a program and spending time with their peers. In my company the manager or nurse on duty schedules a call at the end of the day for a recap. For some families, this one call is enough.
#10: Know the plan for the evening and overnight. Most memory care communities have 24/7 awake staff who do hourly checks on all residents all night long. For the first night or first several nights if your loved one is having difficulty getting used to their new home. It may be better to have more frequent checks. If your loved one is a night owl and tends to be awake at night (having trouble sleeping is common for people with dementia) let the staff know about this beforehand. An overnight caregiver will be assigned to spend time with your loved one. Perhaps they will have a nice chat at 2am in the country kitchen over a cup of tea!
#11: If your parent calls you upset after you leave, call the Reception Desk and ask them to send a caregiver to comfort your loved one. Your Mom or Dad may contact you crying and ask you to take them home. Comfort them, but make this a short conversation so you can call the community. You can tell your loved one you have to do something that won't take long, and you'll call them right back! It is tough to transition the care of your loved one to the staff. However, the team is professional, loving, and compassionate. They also know how to deal with the anxiety, anger, and depression (and sundowning behaviors) associated with Alzheimer's and other dementias. The staff are professionals in de-escalating difficult situations and calm fraying nerves.
Being on the other end of those phone calls IS HARD. They can be very unsettling. Don't hesitate to call Reception to find out how they are doing.
Tips: First Month of Transition
Typically, it takes about two months for your loved one to settle into their new home, make friendships with their neighbors, and form relationships with their favorite caregivers.
#12: Remember the lessons learned when your 5-year-old went off to kindergarten. You dropped them off sobbing every morning for what seemed like an eternity and then all of a sudden they made a new friend and loved school! This happens in old age, too. We all need relationships to feel comfortable and thrive. That's what this transition is all about – creating friendships, feeling that people care about you, and knowing you belong.
#13: Limit your visits during the first 1-2 weeks. Some communities tell families not to visit at all during the initial transition! This is hard, but it really does work to get your loved one totally immersed in community life. When people with dementia ask where their family is and ask to go home, the staff is trained in redirection. They also validate your loved one's feelings and provide reassurance that you will be visiting soon. Due to the nature of dementia's short-term memory loss where you truly live in the moment, your loved one will accept this and be comforted. If you decide to visit within the transition timeframe, I must repeat my advice – NO hovering. Don't come every single day. If you do, your Mom or Dad will be spending time with you and not getting to know the people they live with.
#14: Don't visit the day after move-in. Your gut instinct will be to immediately return. We tell families to hold off for at least a few days. Allow the community to get to know your loved one. The goal is for the community staff to become the people they lean on for care and comfort. Putting your trust in the team will allow for more positive visits down the road. Your visits will be more enjoyable over the long term. The community is hosting you instead of relying on you. These visits are to continue to help manage a transition that you are lengthening because you are visiting too much!
#15: I can't emphasize this enough: TRUST the staff. It can be hard to hand over your loved one to "strangers". Again, remember kindergarten when that lovely teacher reached out and took your child's hand in a warm embrace the very first day and they came to love her in time. Your parent will come to trust and love their new caregivers. You can, too.
#16: Stick with your decision in spite of your guilt. A good analogy is when children are at school or daycare having a wonderful time. But at the end of the day when they are tired and cranky they tell you they had a lousy day and have no friends. The same happens with people with dementia, especially those who have sundowning symptoms. They can have a fabulous day and it all changes in the evening. They pick up the phone night after night to tell you they want to leave. Take a deep breath, check your guilt, and call the staff so they can be the one to comfort your Mom or Dad with a calm and reassuring hug.
#17: One final note: We hear from time to time that family members feel there is a revolving door of staff providing care for their loved one. They want consistency. But, we intentionally rotate caregiving assignments to ensure that the entire team gets to know each of our residents. This is in an effort to provide a deeply personal positive caregiving experience, no matter who is on staff on any particular day.
Good luck. Just remember, you are not in this alone. Competent, compassionate professionals will help you through this transition.