It's well documented today that the Mediterranean diet consists of many powerful ingredients that can combat cognitive decline. Meals rich in lean meats, dark, leafy greens, nuts, whole grains, and olive oil — which make up the bulk of Mediterranean foods — are proven to slow down the effects of Alzheimer's and related dementias. But, recent research shows how this diet helps improve physical as well as brain health!
Prevalence of Frailty in Senior Citizens
A study by Johns Hopkins Medicine has found approximately 7-12% of Americans aged 65 and older are considered frail. By definition, to be considered frail a person must be experiencing at least three of the following characteristics: unintentional weight loss, exhaustion, slowness, weakness, and low physical activity. Increasing their physical activity to build muscle mass, coupled with a nutritious diet, aging adults are more likely to keep frailty at bay. Following a diet rich in fruits, vegetables and other health-boosting foods is recommended to prevent or counteract frailty. These foods are commonly found in the Mediterranean Diet.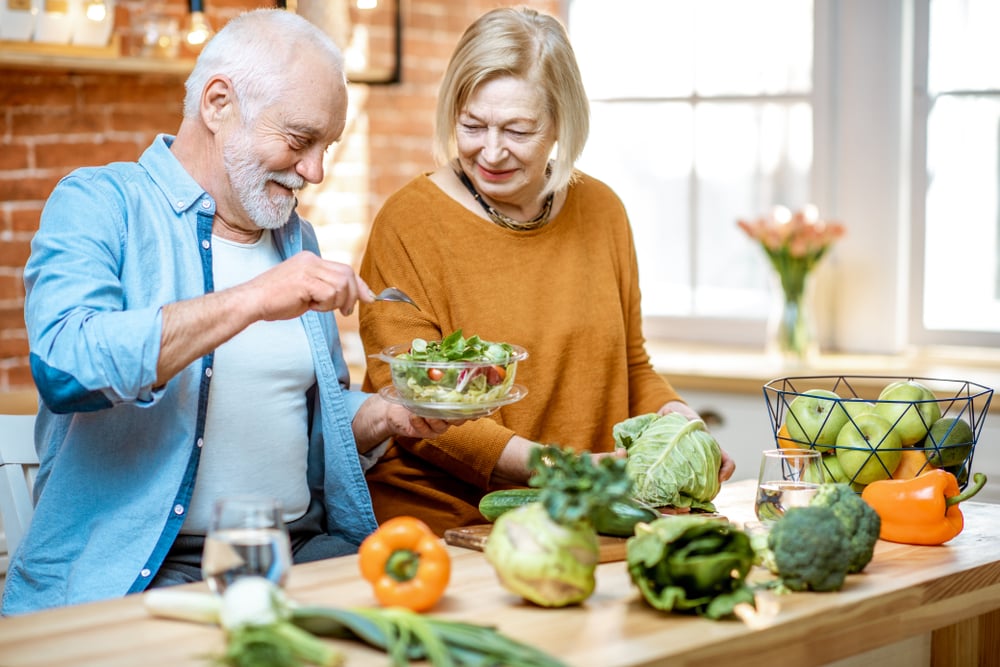 Anti-Frailty Benefits of the Mediterranean Diet
A 2017 study by Clinical Nutrition tested the effects of introducing brain healthy foods into diets. During the study, researchers evaluated 560 participants aged 75 and older. They found that those who most closely followed a Mediterranean diet had a 68% lower risk of incident frailty over time and a 62% lower risk of frailty after two years of following the diet. Overall, the consumption of these nutrient-rich foods help to slow down the loss of muscle strength and other characteristics of frailty.
Additionally, the Journal of the American Medical Directors Association conducted a study in 2014 that found similar results. Researchers assessed 1,815 older adults living in Spain for adherence to the Mediterranean Diet and measures of frailty. All in all, greater adherence to the diet was found to be associated with a decreased risk of frailty, especially due to increased consumption of fruit and fish.
The Mediterranean Diet is important for boosting the brain health and physical health of aging adults. With the power of these mighty fruits, vegetables, lean meats, nuts, fish, and more, older adults can see an improved lifestyle with a reduced risk of frailty and lessened effects of cognitive decline. To fight off frailty, try the Mediterranean Diet!
Getting Started with the Mediterranean Diet
Wondering exactly how you can jump on the Mediterranean Diet bandwagon? Check out the resources below to start introducing for healthful ingredients into your diet: