Covid vaccine scams have hit the news recently. Scammers have been busy all along during the Covid-19 pandemic. They pretend to be the IRS requesting bank account information to send out stimulus checks. Some pose as contact tracers asking for social security numbers. They have been selling fraudulent test kits, as well as products they claim will treat or even prevent Covid-19.
Now, they are profiting off the confusion and delays around getting access to a vaccination site. Seniors are vulnerable to devastating health and emotional impacts of Covid. To add insult to injury, they are being tricked into giving up their personal information thinking they are booking a legitimate appointment for a vaccine.
Therefore, the Federal Trade Commission has issued these tips for consumers to avoid being scammed.
Don't share your personal information with anyone you don't know who is looking for your credit card or bank account number to sign up to get the vaccine.
Don't open emails, attachments or links from anyone you don't know offering a Covid vaccine appointment until you have called to verify the source of the email.
Watch for unexpected or unusual texts, and don't click on links in texts until you have verified the source.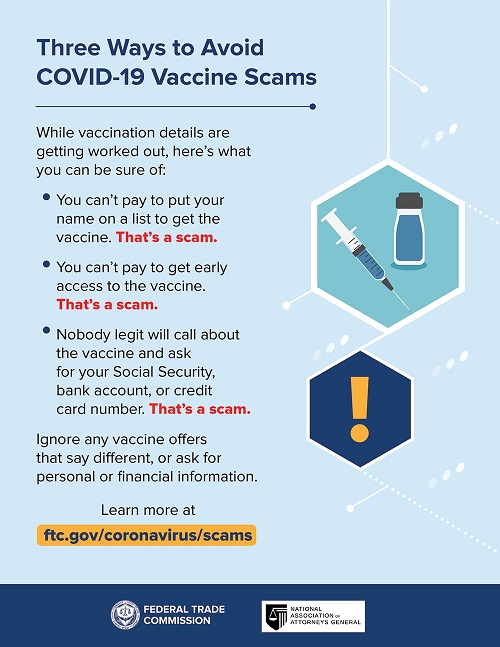 In my home state of Massachusetts, another scam involves people taking advantage of relaxed rules that allow younger "companions" of people aged 75+ to get vaccinated themselves. Seniors need to be wary of strangers offering to schedule and give them a ride to their vaccination appointments. Some are advertising on Craigslist, and even charging a fee.
For more consumer tips on avoiding Covid-19 related scams, visit the FTC website: