Our AgeRight blog has published several articles related to scams targeting the elderly, on topics such as financial exploitation, identity theft, email spam and lottery scams. Unfortunately, scammers have found a new angle by taking advantage of the fear and vulnerability surrounding the current coronavirus pandemic (Covid-19).
As seniors and the rest of the world are constantly engaging with the latest news updates and social media posts related to Covid-19, we must ensure that we are safely navigating through our email inboxes, social media feeds and direct mail as scams have increased during this time on all platforms. Educating ourselves and loved ones about the different vehicles that scammers are using to trap people during this uncertain time will help us maintain our safety and security.
Covid-Related Email Phishing
There are a series of phishing emails going around that offer things like personal protective equipment (PPE) that is in high demand, a coronavirus "cure" or treatment, and other similar products.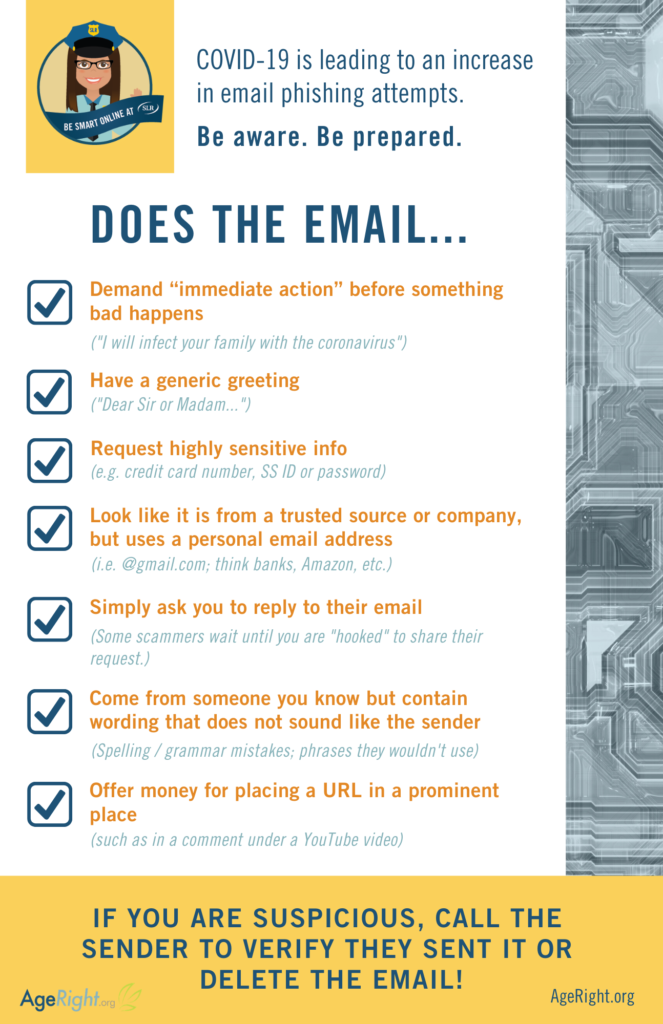 You need to be cautious and responsible when checking email. Look for the following red flags:
Name and email address do not appear to be the same person
Email signature is suspicious
Body of message is vague
Suspicious links
Demands immediate action to prevent something bad
Offers money in exchange for doing something
Download this checklist to help you spot suspicious emails
What is Smishing?
Smishing is a phishing attempt in the form of a text message or SMS. Many of us are accustomed to receiving text updates or promotional texts from schools, retailers, hospitals, etc. During this time, scammers have generated texts to go out to individuals offering free products or services that prompt you to click to redeem them in exchange for personal information (similar to robo calling). This is just one example of how a scammer can get you to fall victim to their schemes.
As screen time has likely gone up with more people staying home and sheltering in place, it is more likely that you will encounter scams via text message. Especially if you are signed up for text alerts for your child's school or your parent's assisted living community, it is important to be diligent. A good rule of thumb is if you do not recognize the sender, simply erase the text message. If they keep contacting you, you can block the phone number.
Stimulus Check Scam
We have stated in a previous blog post that the Internal Revenue Service (IRS) will NOT contact you via phone to ask for personal or financial information. If you get a call from someone claiming to be from the IRS asking for your bank account number so they can deposit your stimulus check, hang up the phone and block their number if possible. Scammers are using stimulus payments as an opportunity to rip people off, either by requesting a special fee in return for the check or by stealing your social security number and financial credentials.
If you filed your 2018 or 2019 taxes, you will likely receive the stimulus check using the same payment method (i.e. direct deposit, paper check) without any action required on your part.
Note: You can safely provide the IRS with your direct deposit information by going to the "Get My Payment" feature at irs.gov/coronavirus. Any other website claiming to offer this service should not be trusted.
We want to ensure that you and your loved ones are using technology in the most secure way possible. We understand that there is so much uncertainty during this time and we want you to know that we are here to support you and your loved ones during this time. Please visit our webpage for more information regarding our communities and COVID. https://www.seniorlivingresidences.com/covid-19-coronavirus-preparedness/