You may be contemplating a "rightsizing" move for yourself or a loved one in the near future. Perhaps you are a long-range planner and want to know what care options are available should you need them as you age. In either case, it makes sense to have a solid understanding of your senior living and care options now.
The senior living industry today offers a range of options to fit various lifestyles, budgets and healthcare needs. More options are great, but it can also be overwhelming. You need a crash course. This Q&A with easy-to-read short definitions can jumpstart your research.
Q&A: Types of Senior Living & Care Options
What are 55+ Communities?
55+ communities are for active seniors who want resort style amenities along with a lively social atmosphere. They are restricted to people 55 years and older (hence the 55+ term). Residents own or rent a mix of single family homes, cottages, townhomes or condos. It's a good idea to review the rules and regulations, as some communities won't allow adult children to live there. These communities typically have clubhouses and restaurants onsite. Other on-campus amenities may include shops, entertainment venues, golf courses, tennis courts, fitness centers, etc.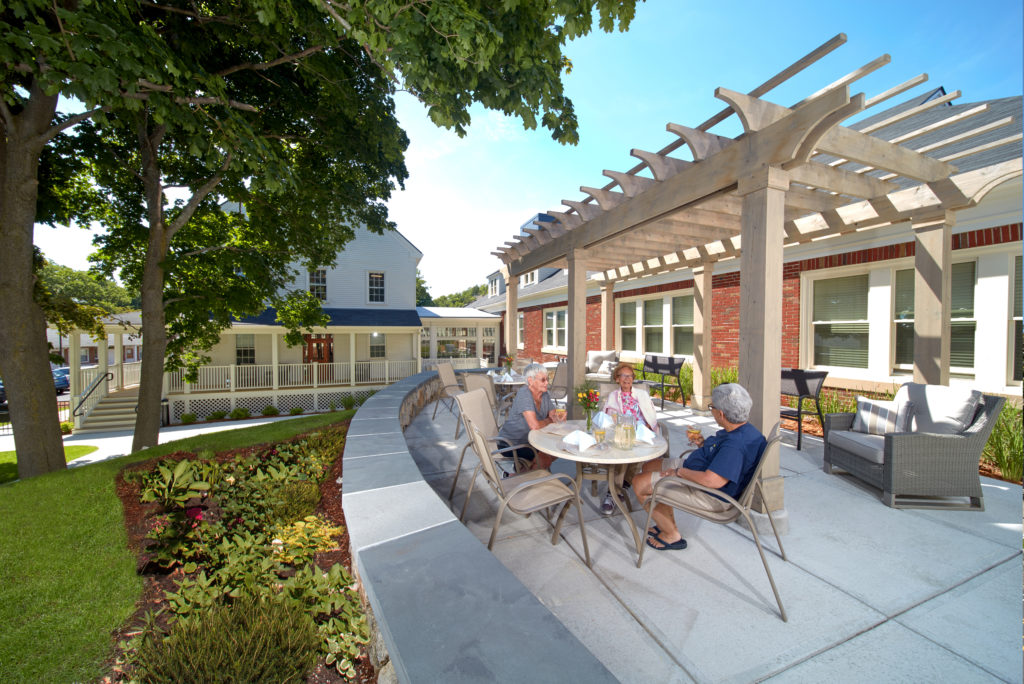 What is Independent Senior Living?
Independent senior living is for seniors who desire to live on their own. Most are still driving. Independent senior living is good for both individuals and couples. Many feature apartment-style living with some shared community spaces, although a larger complex might include a mix of townhouses and single family homes. They vary widely in their amenities, services and cost. They often, but not always, have an active social calendar. Some have in-house dining options and some contract with local agencies to bring in personal care services if a senior "ages in place". "Aging in place" refers to individuals remaining in the community into their later years. When the need arises, services such as personal care, transportation, etc. are added, at the expense of that individual.
What is Assisted Living?
Assisted living is for seniors who are typically in their 80's and 90's who want their freedom and independence, yet need some help managing everyday activities. These include meals, medications, personal care, and/or transportation. Assisted living communities most often feature private apartments and a wide array of indoor and outdoor common spaces for restaurant-style dining, group programs and entertainment. Sometimes Independent living, assisted living and memory care exist within the same building or together on one campus.
|
This graphic shows the most common housing options for "older" seniors.
What is Assisted Living Memory Care?
Assisted living memory care is for individuals with Mild Cognitive Impairment, Alzheimer's disease and other dementias. These communities are called Memory Care or Memory Support. They may be stand-alone facilities. But most often they are a separate "secure" part of an assisted living community (often referred to as a Memory Support Neighborhood). The term "secure neighborhood" is a nice way to say "a locked unit". The doors are locked from the inside to prevent people with Alzheimer's from wandering away without supervision.

If you are caring for someone with Alzheimer's at home, this article provides an overview of available Memory Care Options Along a Continuum of Care, including in nursing homes.
What is an Assisted Living Short-Term Stay or Respite Program?
A respite, short-term stay, or trial stay is an option at most assisted living
residences. There are several main reasons why people choose a short-term stay. Sometimes family caregivers need someone else to care for their loved one for a short while because they have stress and caregiver burnout. Some health care procedure, traveling for vacation or workSeniors often want to "try out" assisted living to make sure it is right for them. A respite stay also refers to a short-term stay with services, typically to help seniors recover after a hospitalization or a stay in a "post acute" rehabilitation facility. Often seniors are not quite ready to handle things on their own at home if they are still recuperating and not feeling their best. Sometimes communities will have a minimum length-of-stay for respite – be sure to ask about this.
What is a Nursing Home?
A nursing home, typically referred to as skilled nursing center by industry professionals, is for seniors who need 24-hour skilled medical care and nursing assistance to manage chronic conditions. A good nursing home will also feature community spaces for activities and entertainment programs. Many people confuse assisted living and nursing home care. In contrast, assisted living is for older and sometimes frail seniors, but they don't need 24/7 intensive medical care. Skilled nursing facilities /nursing homes accept Medicaid for payment and therefore are an option for those who do not have financial resources. Nursing homes can also have separate dementia units.
What is a Continuing Care Retirement Community (CCRC)?
A CCRC is for seniors who want the convenience of living in one location as their care needs increase over time. A CCRC is a residential campus that provides the entire continuum of care from independent living to assisted living to skilled nursing care for true "aging in place". These types of communities often require large upfront fees and additional monthly fees. They are referred to as "buy-ins". (*see below)
What is a Rehabilitation (Rehab) Facility?
A rehabilitation facility is a long-term care setting focused on therapeutic care with the goal of restoring someone to health or normal life. There are several reasons why a senior would need rehabilitation, including a serious injury or medication issue. "Rehab" can also take place in the home, in a skilled nursing facility or in an assisted living community.
What is a Hospice Facility?
A hospice facility, or hospice home provides end-of-life care to patients who are terminally ill or in chronic pain. The environment is home-like, with 24-hour staff who can provide skilled nursing services. The staff at the home also focuses on the patients' and their family members emotional and spiritual needs. Many people think that hospice care is provided only in someone's personal home through home health care agencies. However, it is not limited to that. Hospice care can come to a senior wherever they are, even one who is living in an assisted living community.

As an aside, palliative care is similar to hospice in the sense that the goal is to relieve chronic pain instead of curing a condition. However, palliative care can start at any time point in time, not only when a patient is nearing end-of-life.
Your Next Steps
Knowing the right industry terminology is key to understanding your basic options. Once you delve deeper into your research you will narrow down your choices to find the perfect senior living option for you or your loved one. Keep in mind, however, that the best combination of senior living with care and services to meet your needs might change over time. It's important to conduct a thorough assessment to really know what your optimal living situation is as you prepare for a move later in life.